Consensus
How is a consensus reached? How is a canon built? Archive Activists, Invisible Women, explore the dynamics of gender, time and memory in this screening.
Women have always made films, but their contributions have often been undervalued, their stories forgotten, their work buried. Often women have worked uncredited alongside famous men or have only been awarded acclaim decade later. In Consensus, Invisible Women present a fascinating selection of archive shorts to explore why some films are embraced by the canon while others disappear from view. Weaving a path from Scotland to Canada, Consensus forces us to consider how gender and time shape perceptions of worth, drawing a parallel from our complex cinematic history to present-day inequality in the film industry.
Urbane Art Gallery is delighted to be hosting 'Consensus' as part of the Edinburgh Art Festival 2018 on Tuesday 31st July 2018, 7pm to 9pm.
The tickets are limited, please get your ticket HERE.
Urbane Art Gallery, 25 to 27 Jeffrey Street
Edinburgh
,
Mid Lothian
,
EH1 1DH
,
Scotland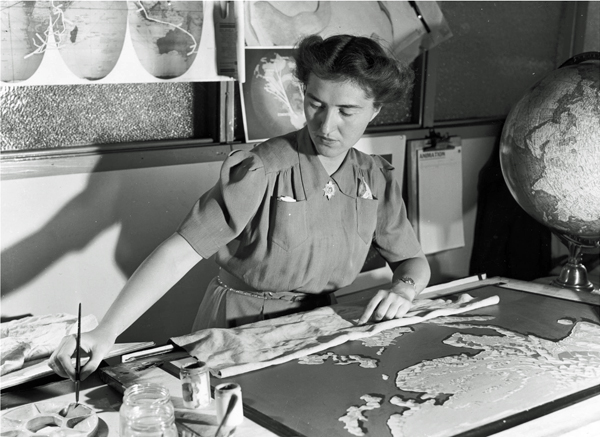 The Intimate Value of Art
We are spending a lot of time at home, surrounded by our personal environment, and here is where art plays a key role. Art in a domestic setting is an intuitive form of self-expression, it reflects identity and personality; it provides value to our lives in unexpected ways.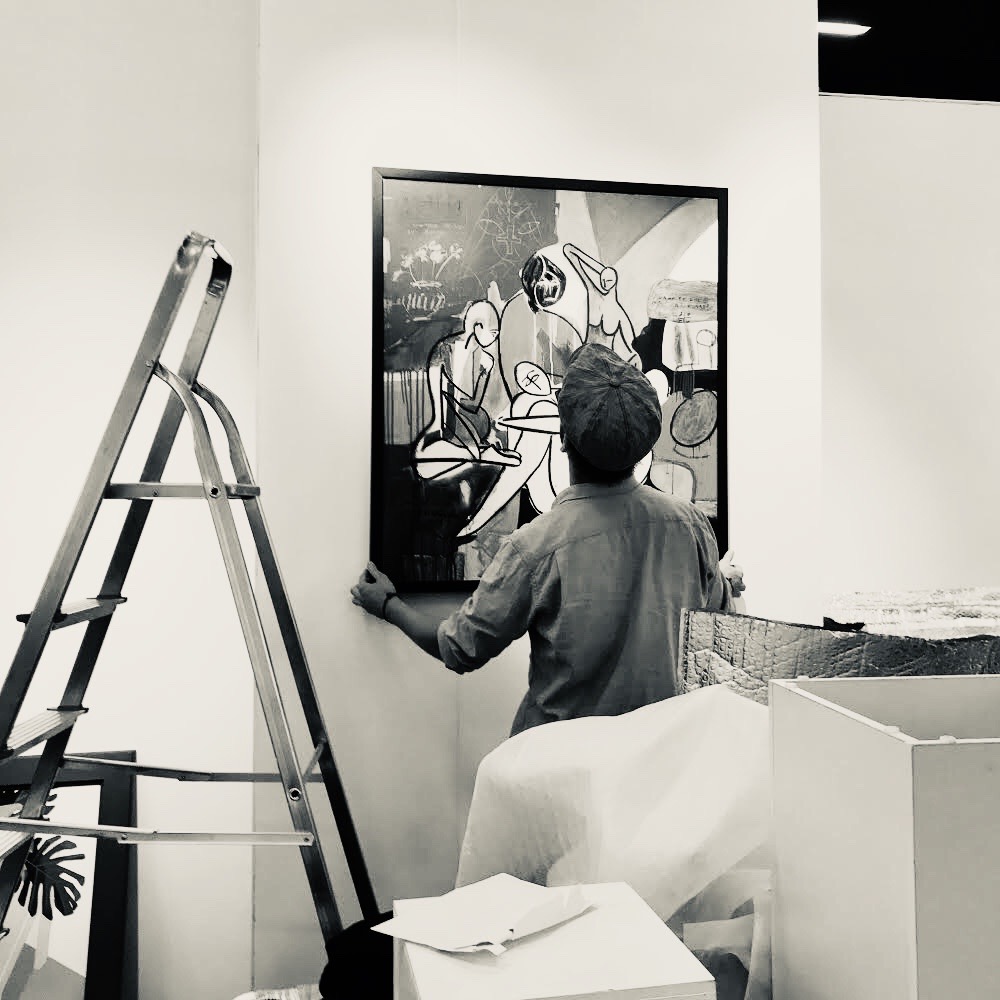 Working from Home
We are now all set working from home! Our current global situation is allowing us to re-think the way in which we exhibit, access and experience art.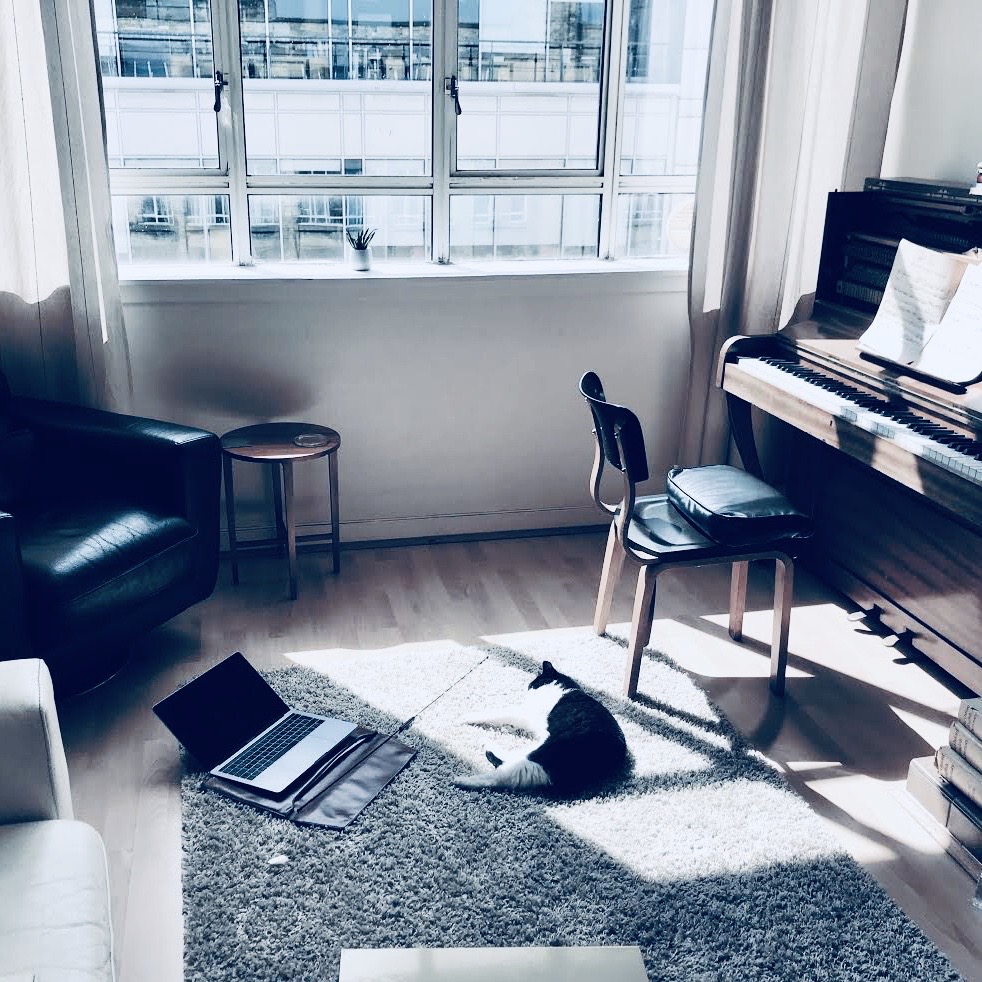 Iconic Works
How have international contemporary artists been inspired by the classics of European art? And why is it these works, in particular, that have become known around the world? Photographer Freddy Fabris at the opening event at the National Museum in Stockholm.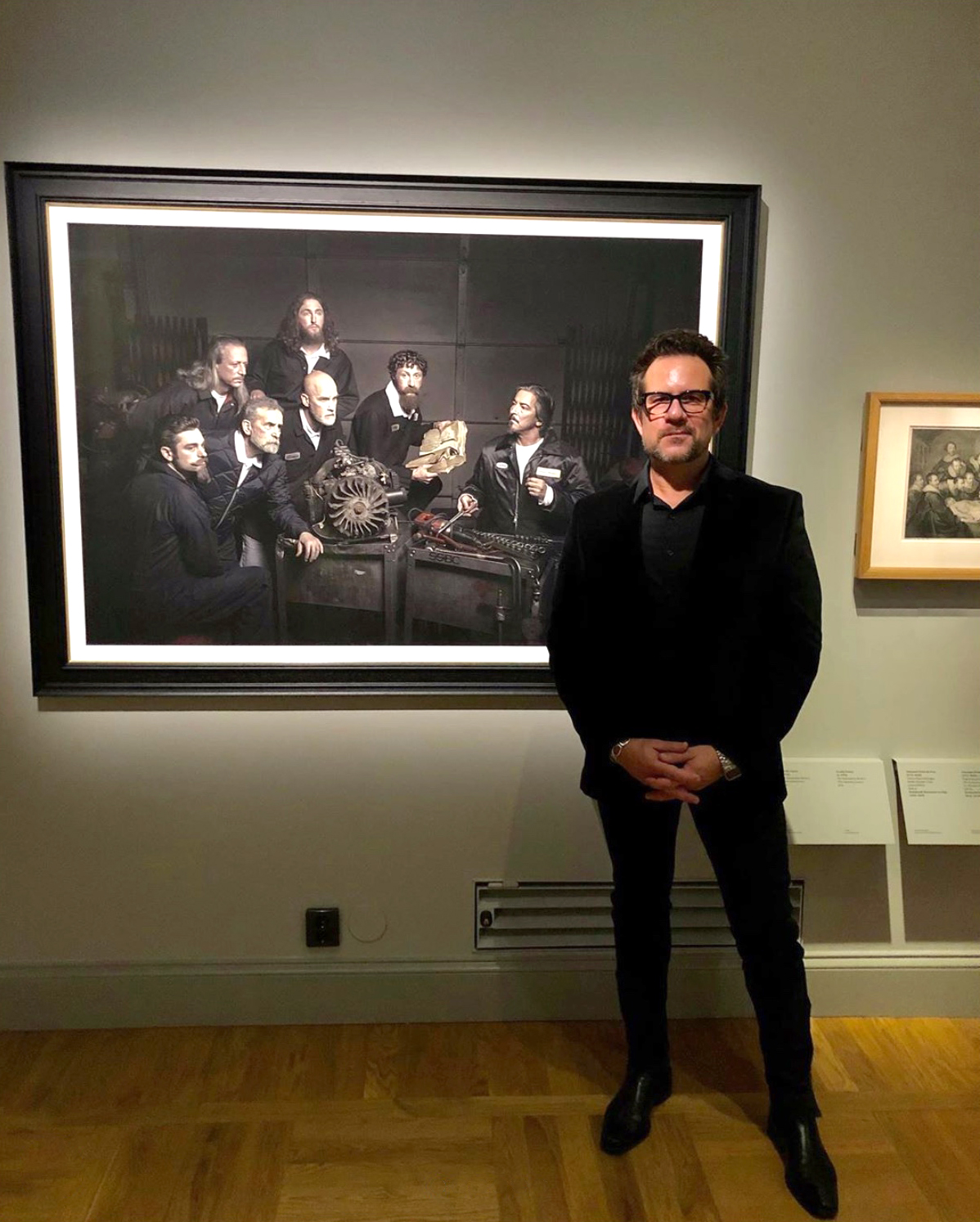 Manhattan
Lesley Hilling sculpture on display at the Royal Society of British Artists 303rd Annual Exhibition.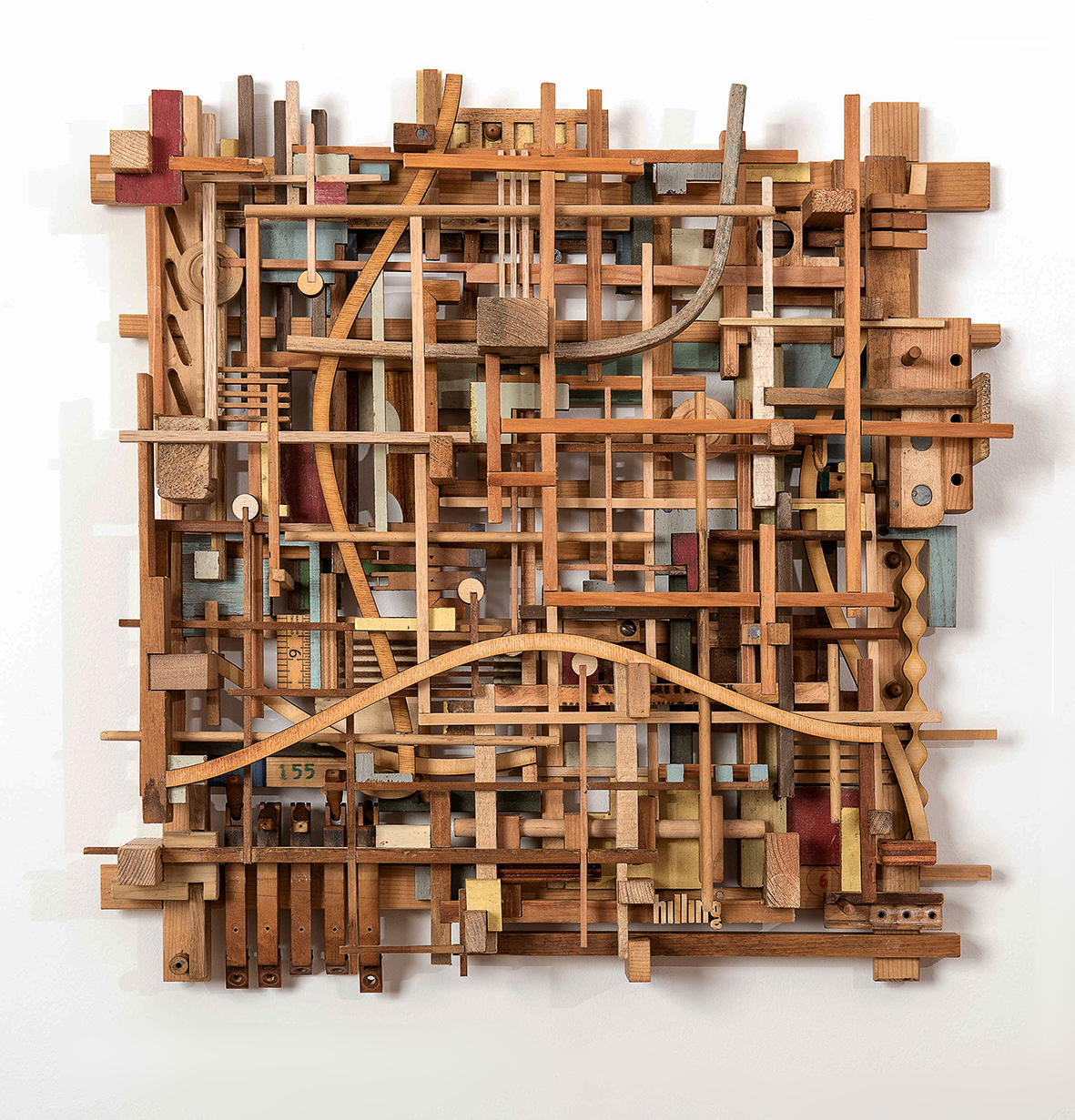 London Art Fair 2020
We are delighted to be returning to London Art Fair this year with an exciting collection of work by Frank Schroeder, Freddy Fabris, Juliane Hundertmark, Lesley Hilling, Sylvia Tarvet, Jack Frame, Natasha Barnes and Beti Bricelj. You can find us at Stand G29 from 22nd - 26th January!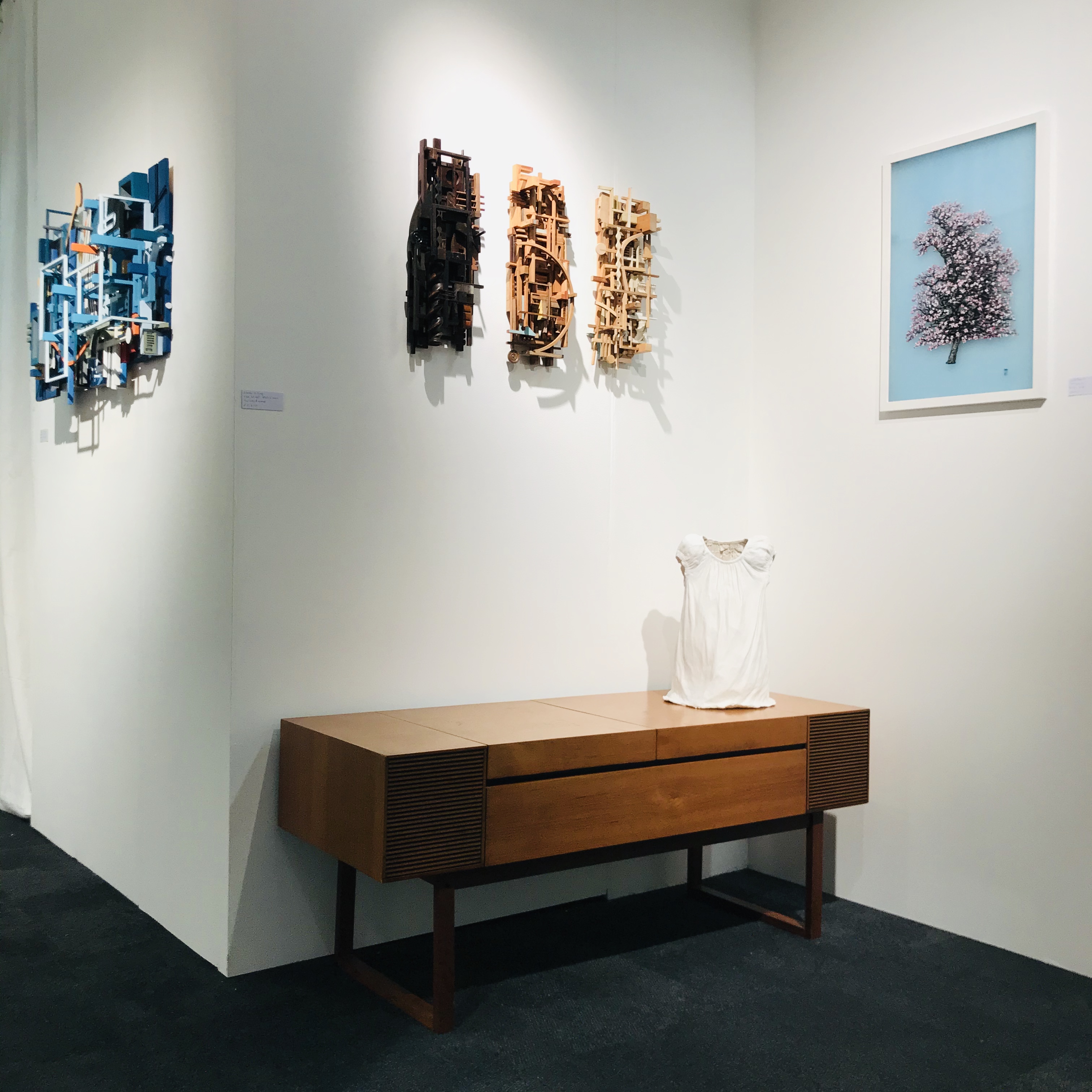 On Longing
Urbane Art is proud to welcome Lesley Hilling's wooden constructions to the gallery.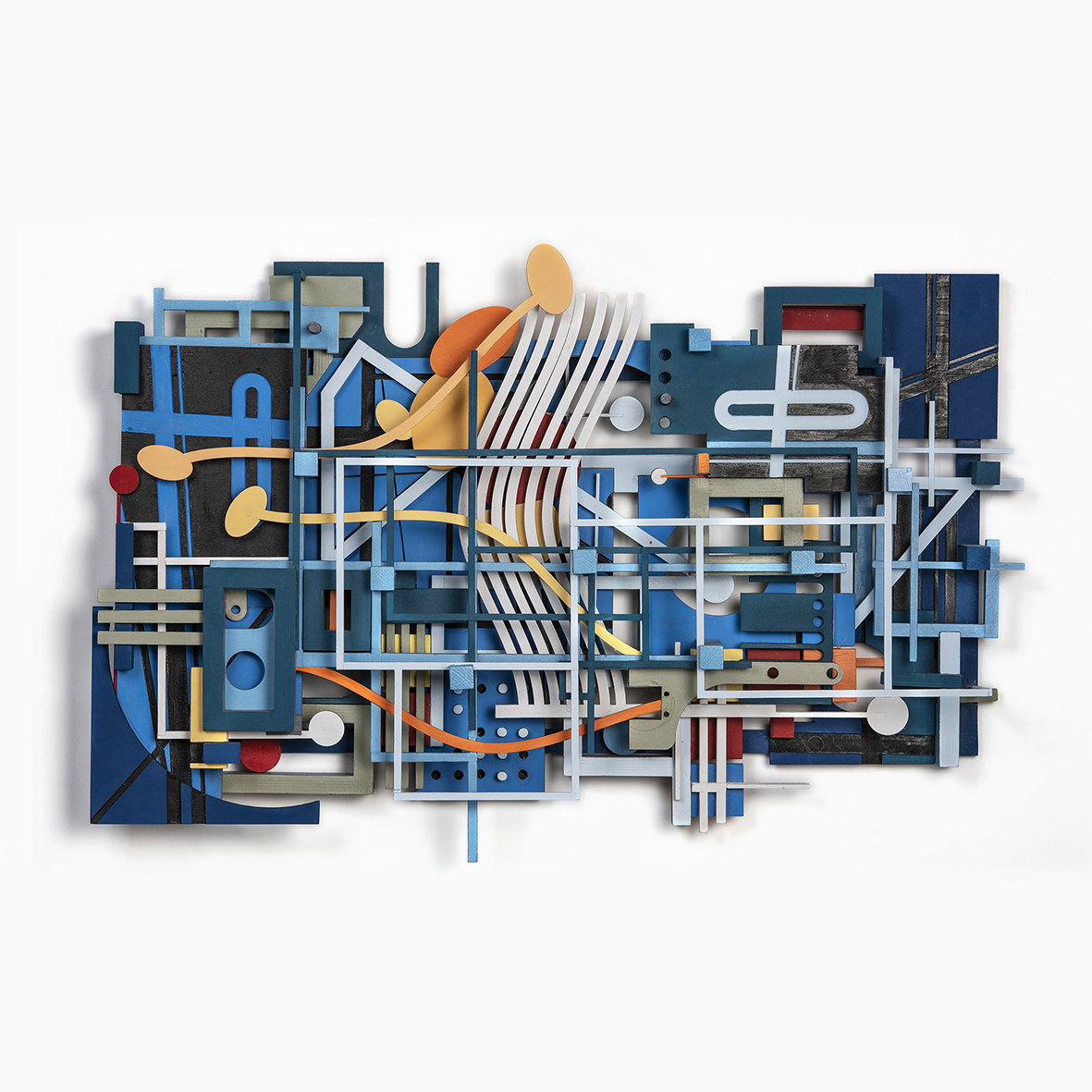 Rejection of Space
We are delighted to welcome Argentinean artist Josemiel Platz to the gallery.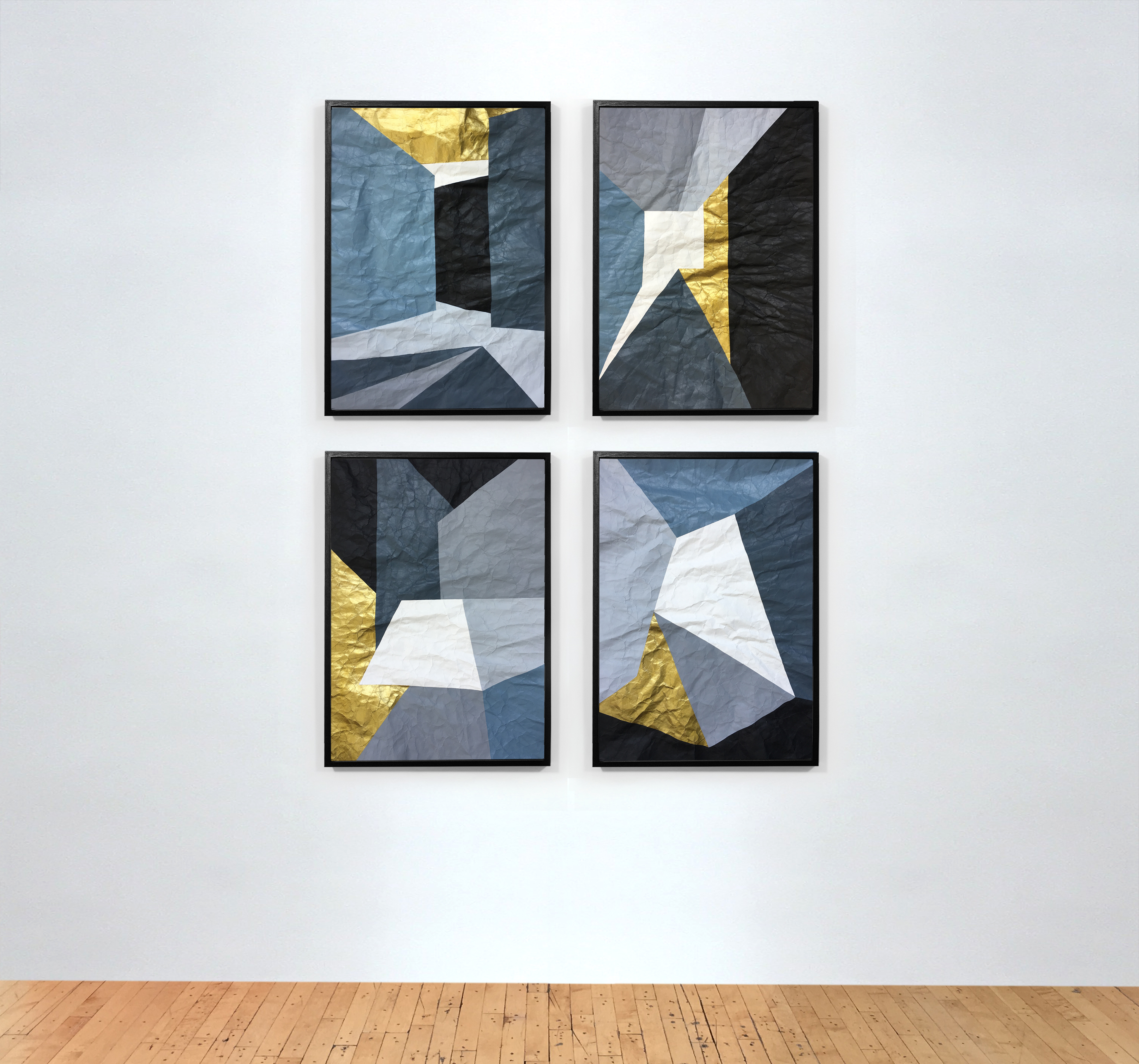 London Art Fair 2019
Urbane Art is delighted to be returning to London Art Fair in Islington this year with a collection of new works by Sylvia Tarvet, Natasha Barnes, Niki Hare, Freddy Fabris, Frank Schroeder, Jack Frame and Benoit Trimborn.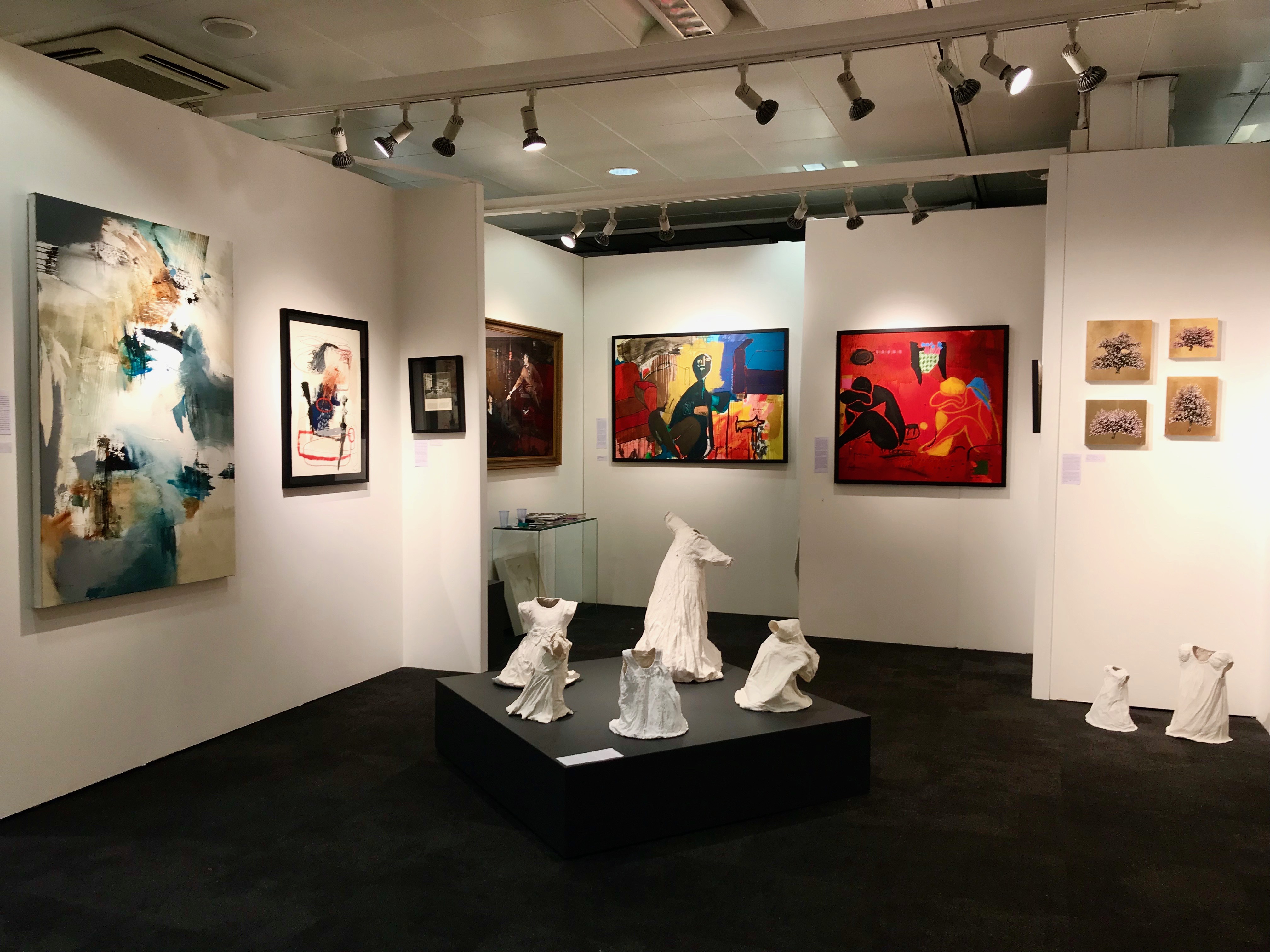 Festive Opening Hours
The gallery will open by appointment only from 24.12.18 till 01.01.19, we will re-open as usual from 08.01.19.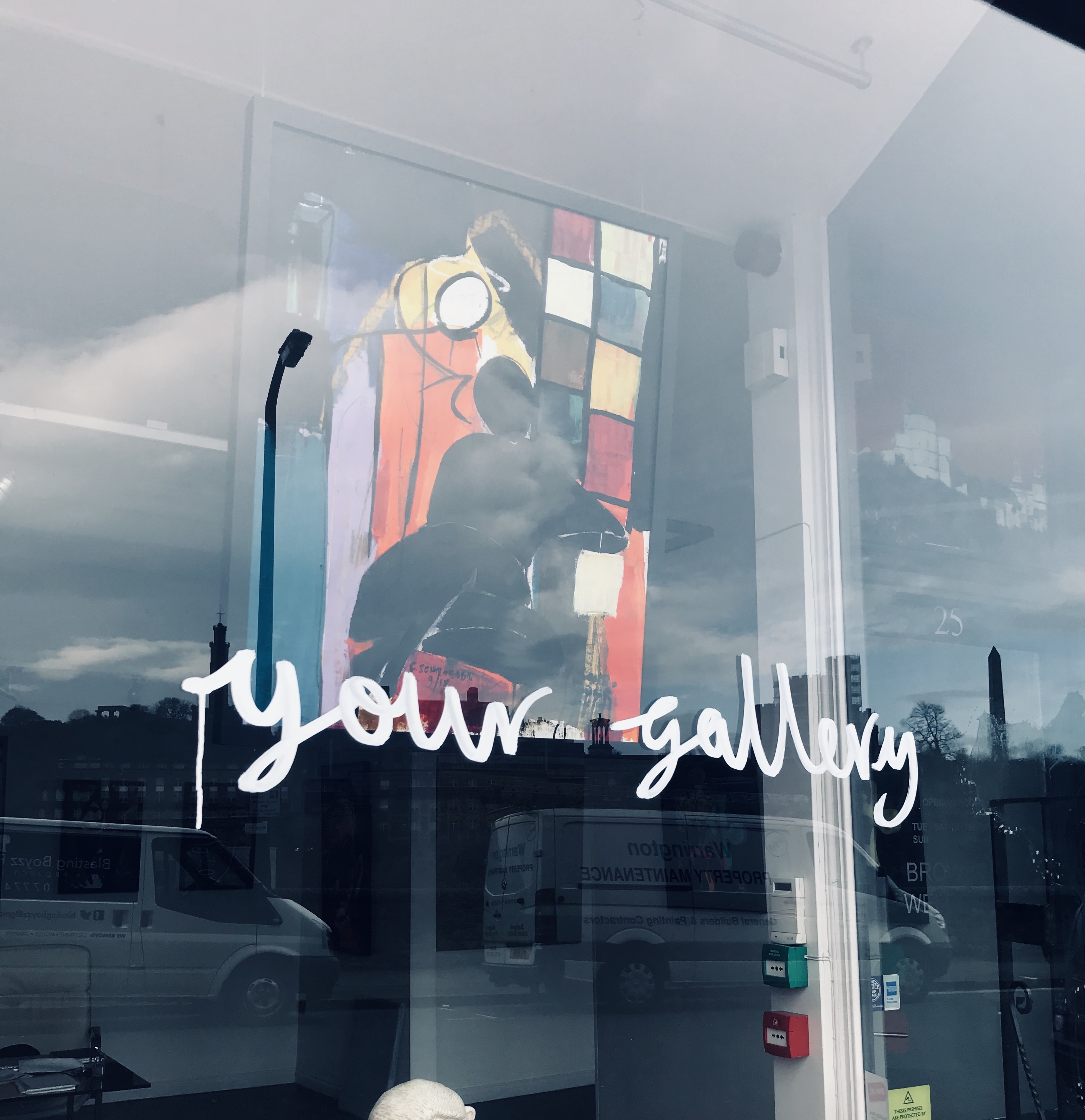 The History of the Saatch
Urbane Art is delighted to be working with the Saatchi Art Gallery in order to offer the 38 kilos limited edition book of 100 copies, that tells its 35 years history, making this the largest Contemporary Art Publication released to date. (This opportunity is only available until the end of October).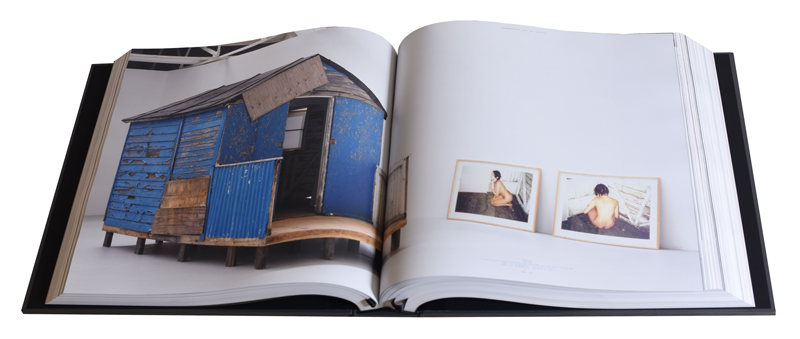 JOLANDA SPAGNO: The loss
Today we received devastating news from Italy. Jolanda Spagno, one of the most talented artists represented by the gallery, has sadly passed away after a long term illness. Our thoughts are with her family at this difficult time and with all those she leaves behind.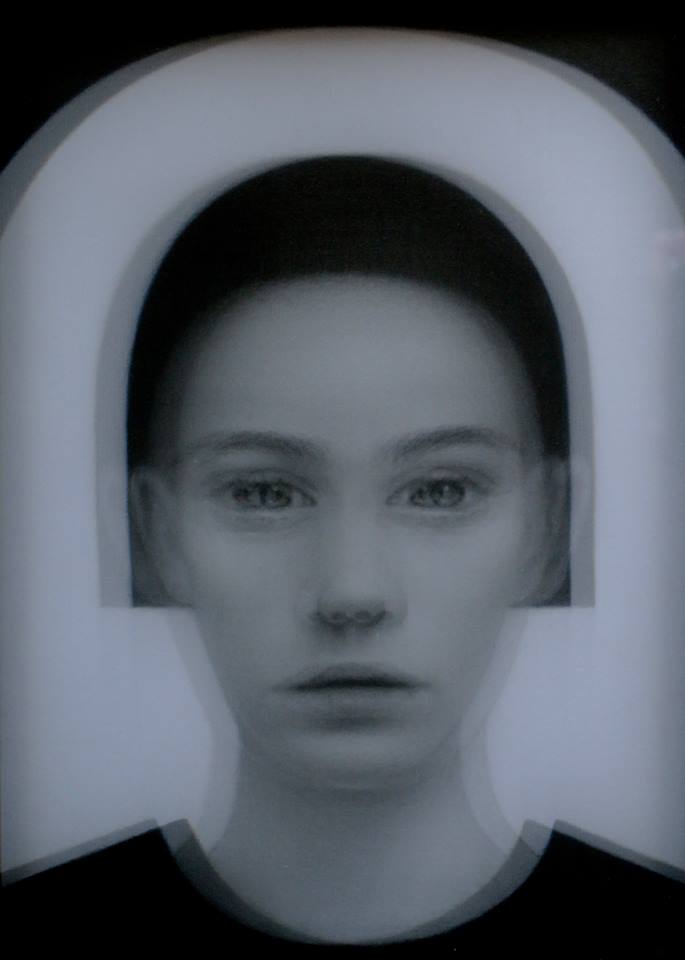 Sylvia Tarvet
We are delighted to welcome award-winning graduate Sylvia Tavert to the gallery.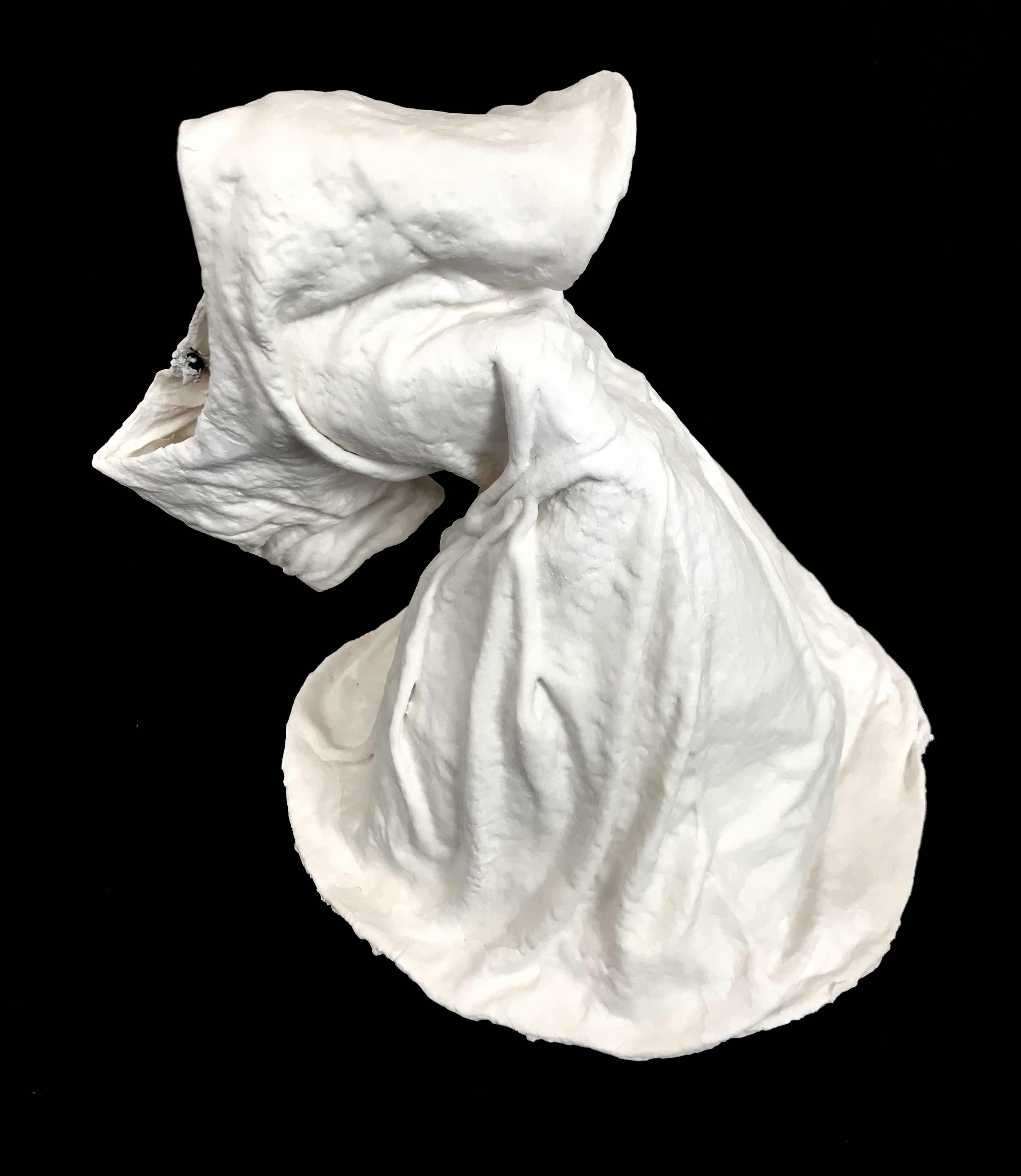 Inivisible Women evening
We had a delightful evening with Invisible Women and a great programme of short films by pioneering women filmmakers.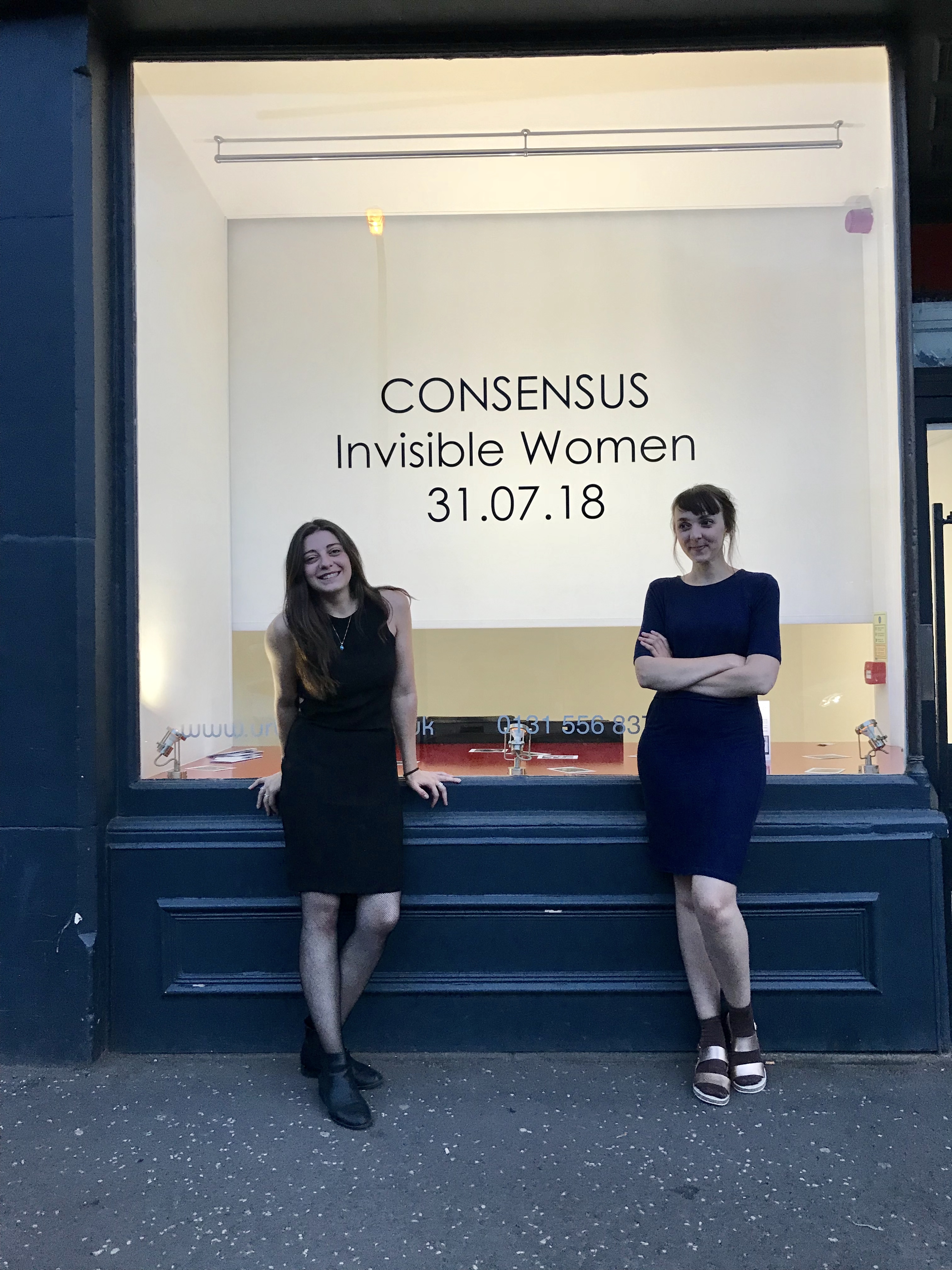 We Are Fully Booked!
We have a waiting list for Consensus, get your ticket as soon as possible.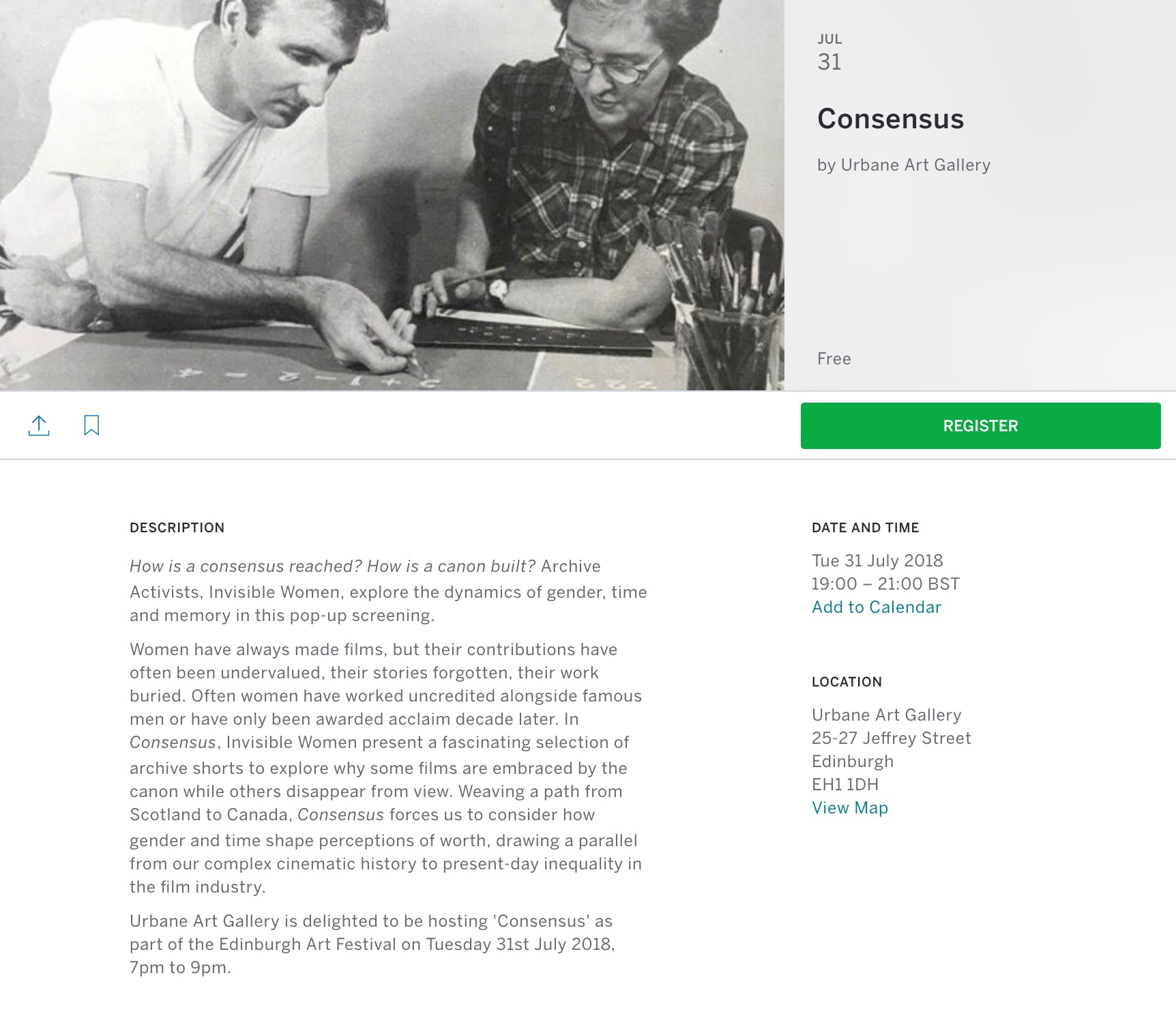 Frank Schroeder Evening
Successful opening of the Frank Schroeder Exhibition and Artist Talk.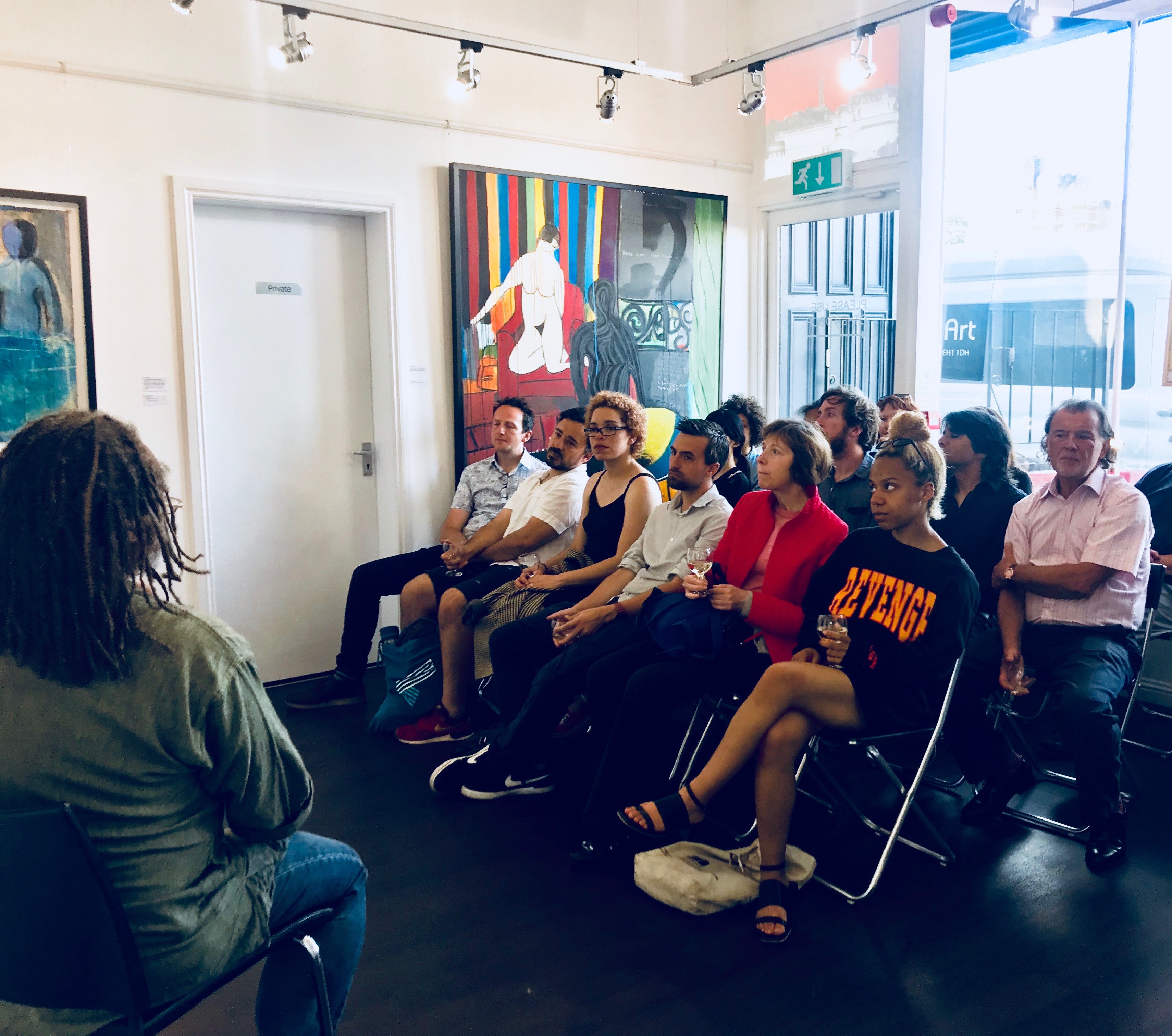 New works by Frank Schroe
A fascinating collection of new works by Frank Schroeder have just arrived from France!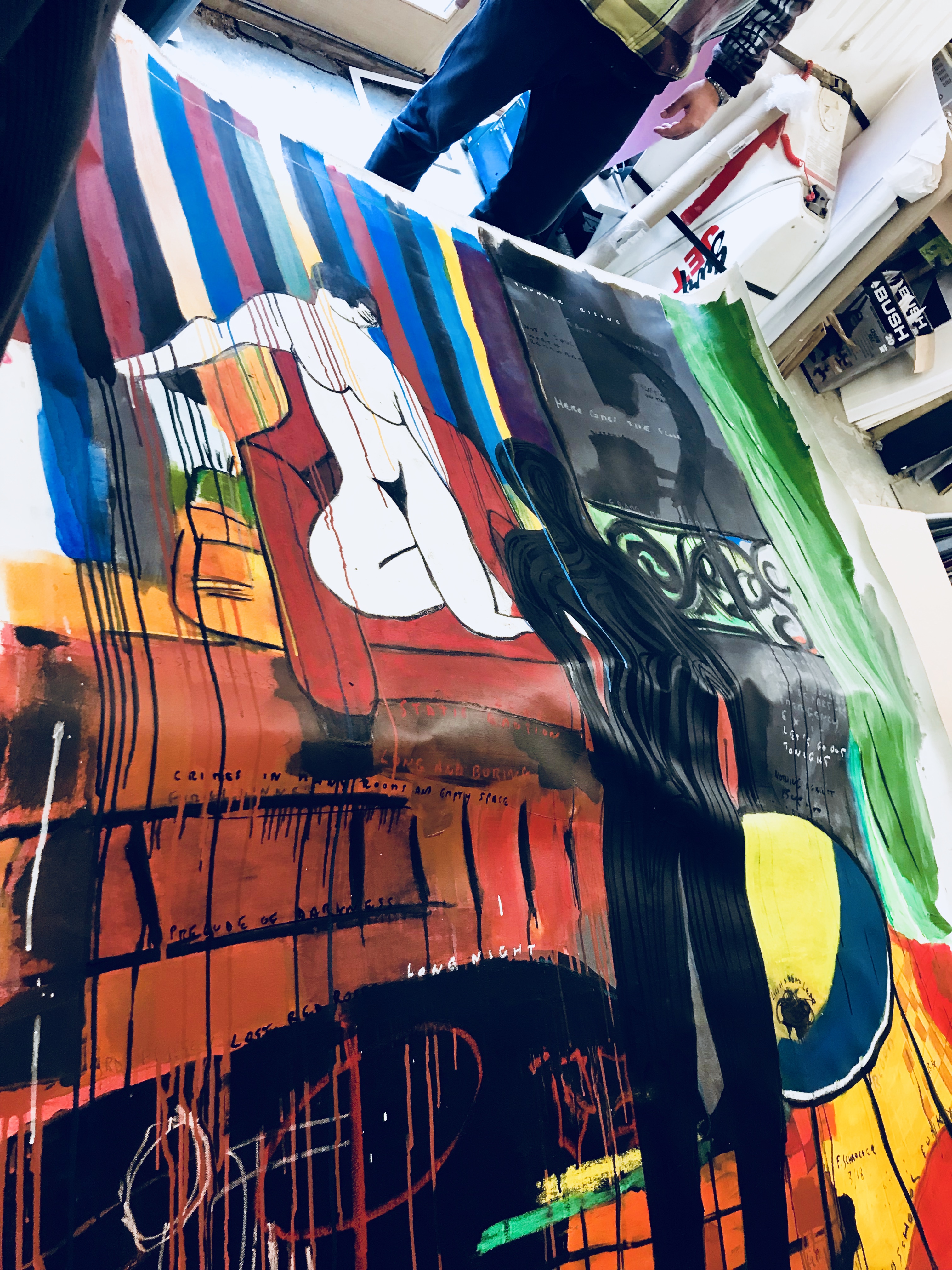 Urbane Art in Artsper
Urbane Art is delighted to be part of one of the fastest growing platforms for Art Collectors online.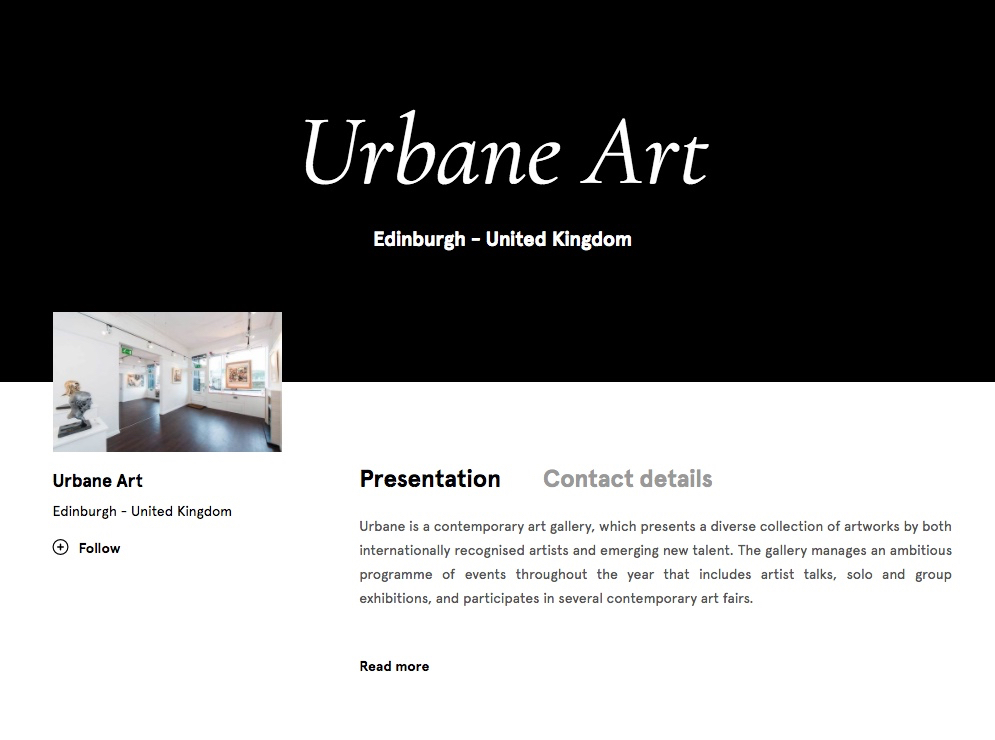 Urbane Art at Artsy
Urbane Art is delighted to have been invited to take part in one of the largest and more reputable platforms for art in the world.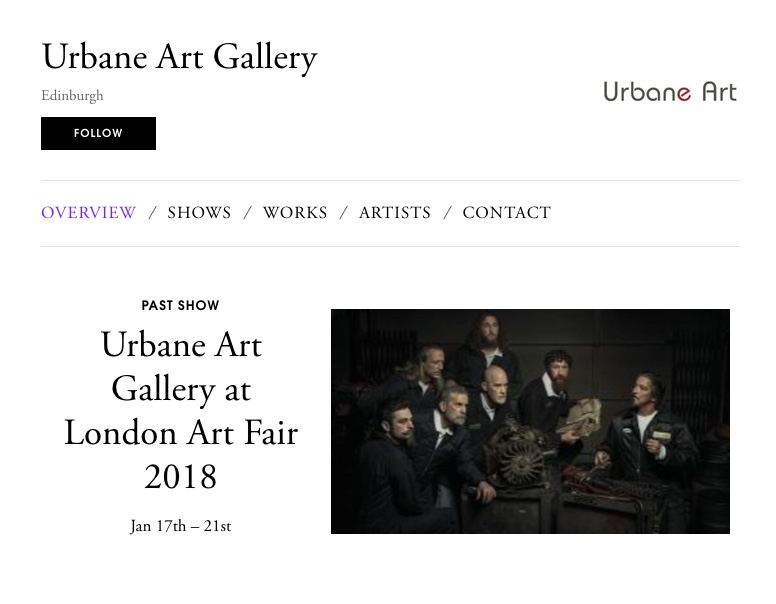 From Harps to Abstracts
Alex Dunn has had a varied involvement in the arts since a young age, being involved in the romantic trading business of harps for decades and working on this three-dimensional collages alongside.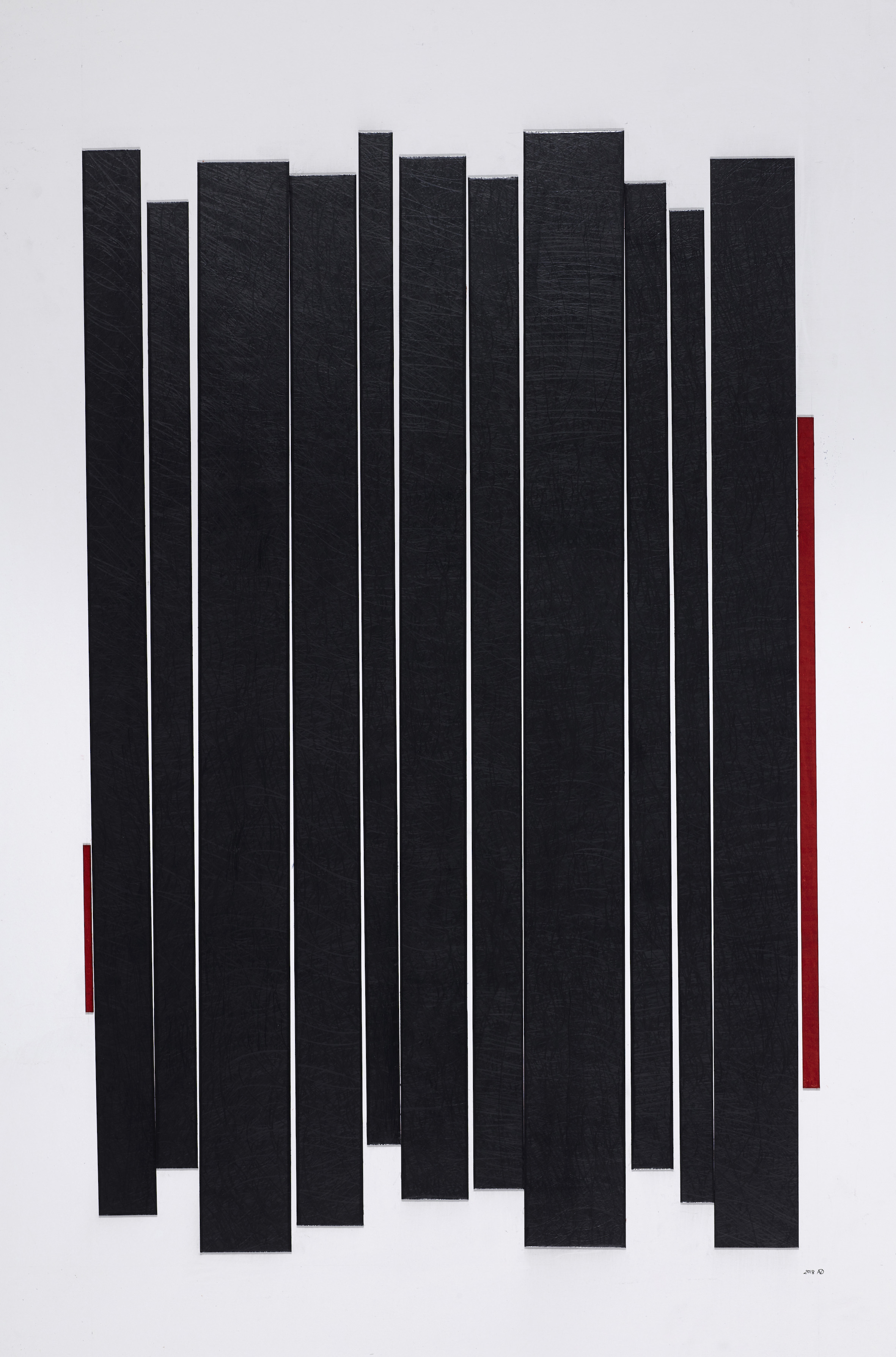 MAIRY TIMONEY receives th
Our warm congratulations to Mairi Timoney, who was awarded the Silvana Editoriale Prize at The Art Prize CBM in Turin.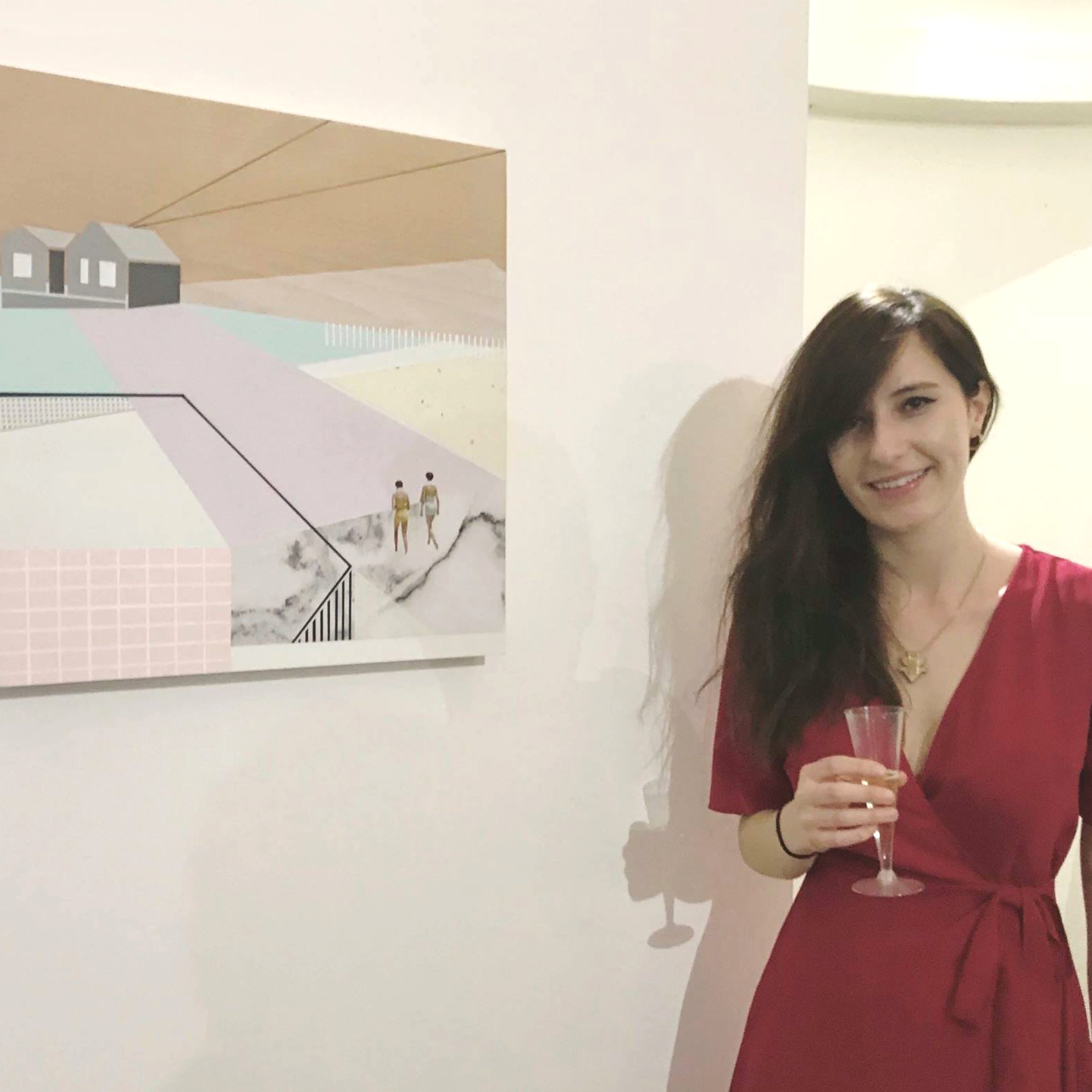 Urbane Art on Artsy
Online art portal, Artsy is featuring Urbane this month as we are exhibiting for the first time at London Art Fair, taking place at the Business Design Centre, Islington between 18-22.01.2017.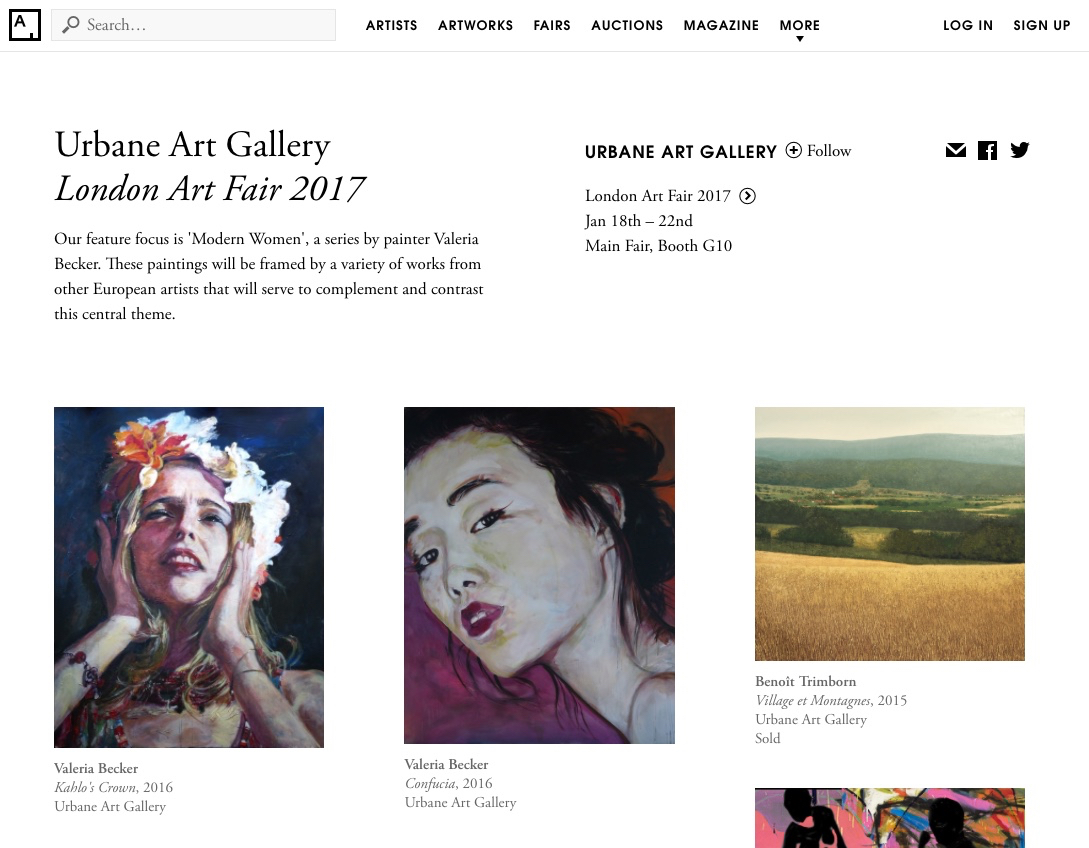 Retina: Scottish Internat
Thank you to everyone who attended the preview of the Retina, making the night a huge success.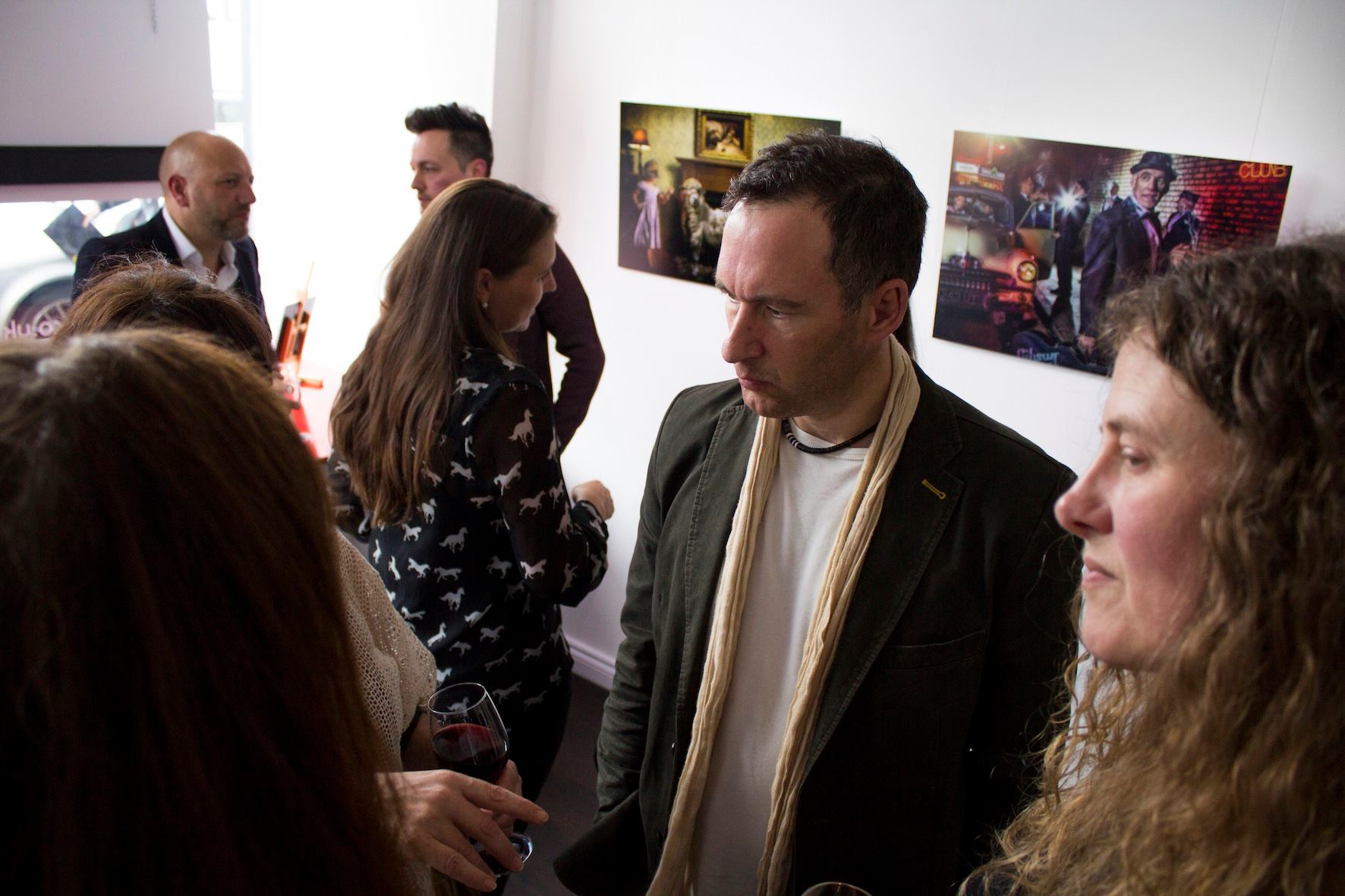 Urbane Welcomes French La
We are very proud to be exhibiting in the UK for the first time the exceptional landscapes of Benoît Trimborn.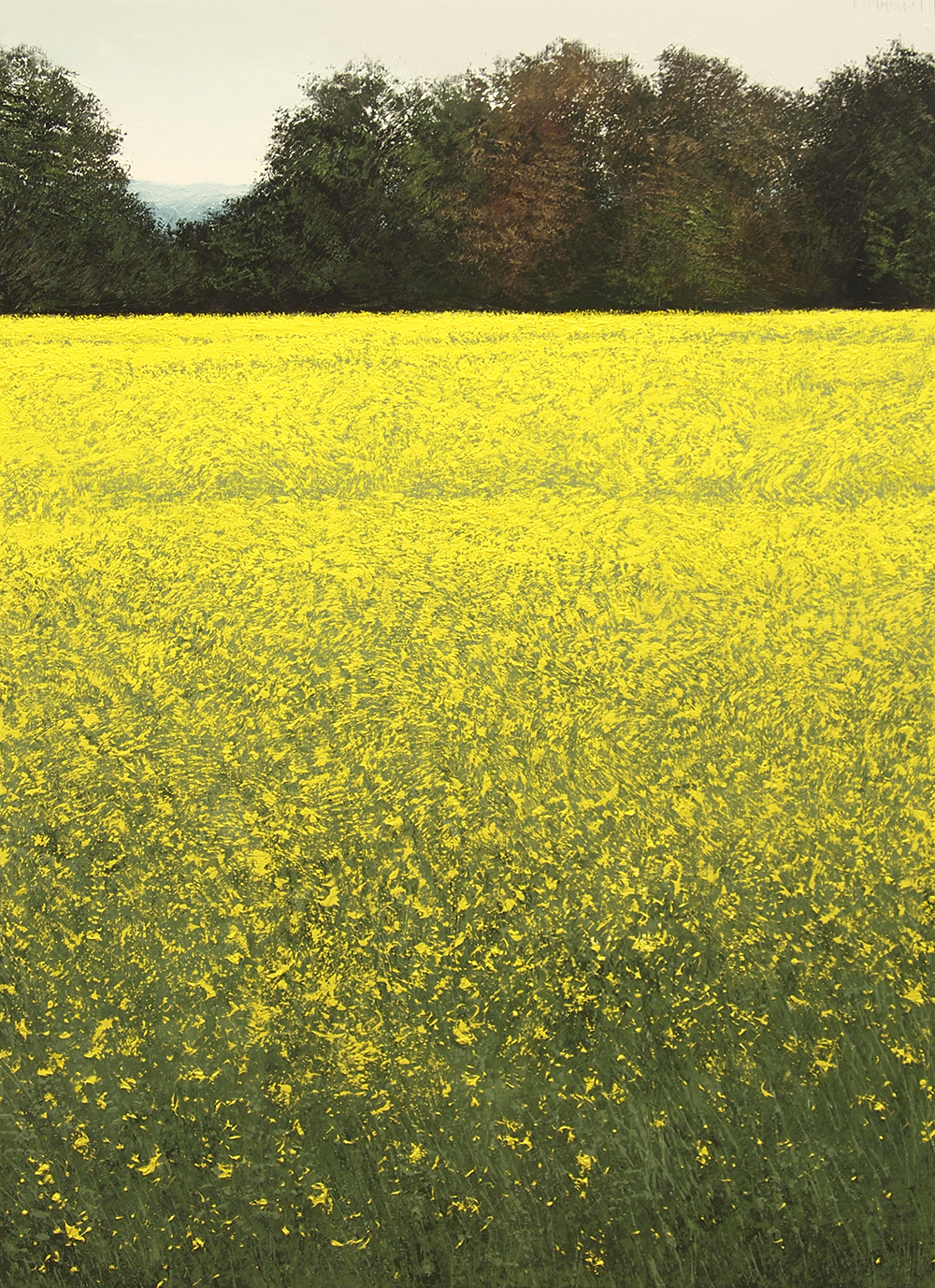 MEDIA ALERT FOR 'ART
EUROPEAN PRESS LAUNCH OF THE RENAISSANCE SERIES BY FREDDY FABRIS IN EDINBURGH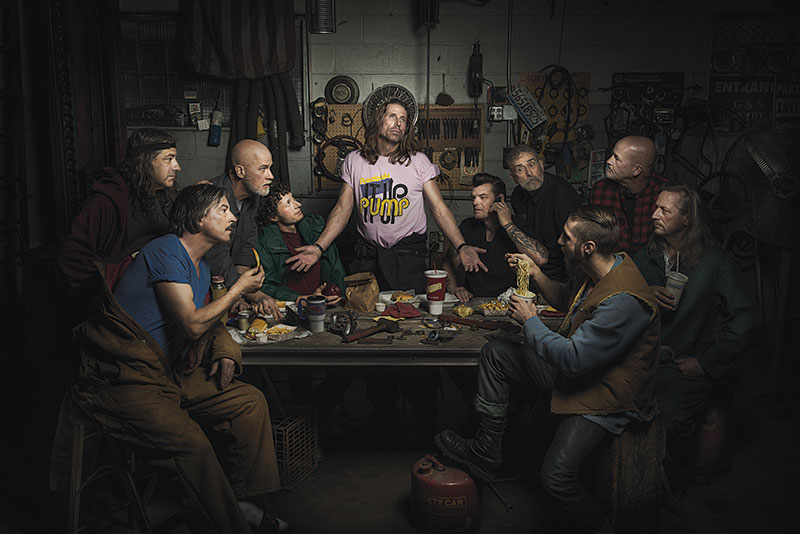 Pascale Taurua Joins Urba
We are delighted to announce that the second international artists to join Urbane this week is exciting new French talent Pascale Taurua.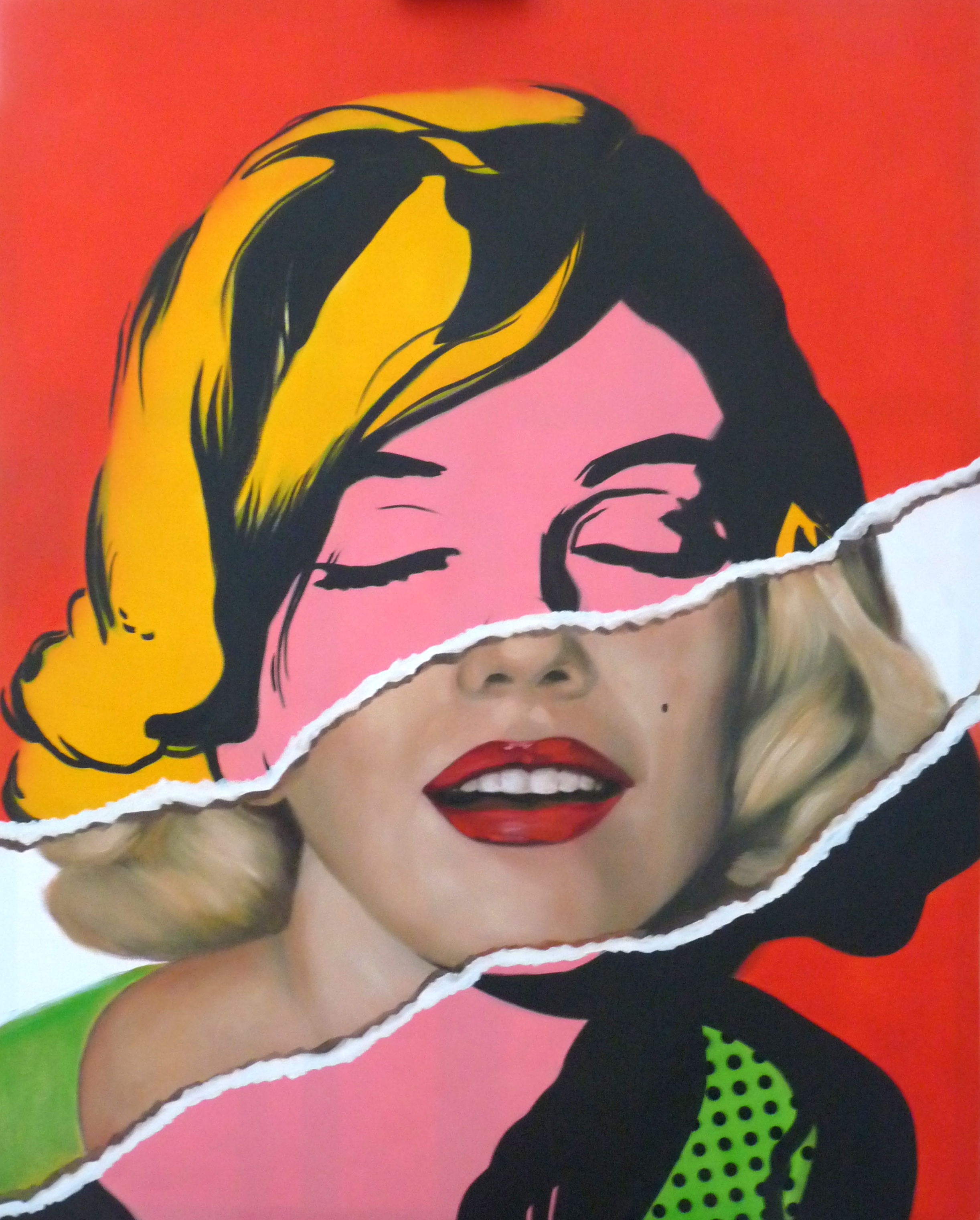 Youn Now Available At Urb
We are very pleased to be exhibiting in the UK for the first time the work of Korean-born sculptor Youn, who is known by her growing band of admirers as Little Miss Sunshine.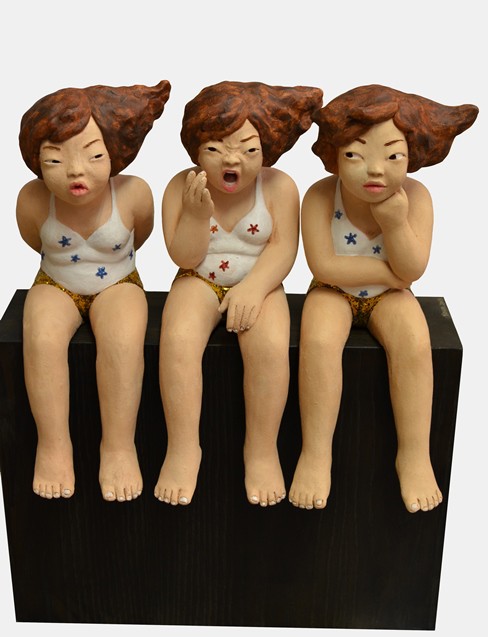 Own Art Plus Arrives At U
Urbane is very proud to be one of only a handful of art galleries in the UK to have been selected to join Own Art Plus. Now you can spread the cost of contemporary art priced from £2,500 to £25,000, over 10 equal monthly instalments.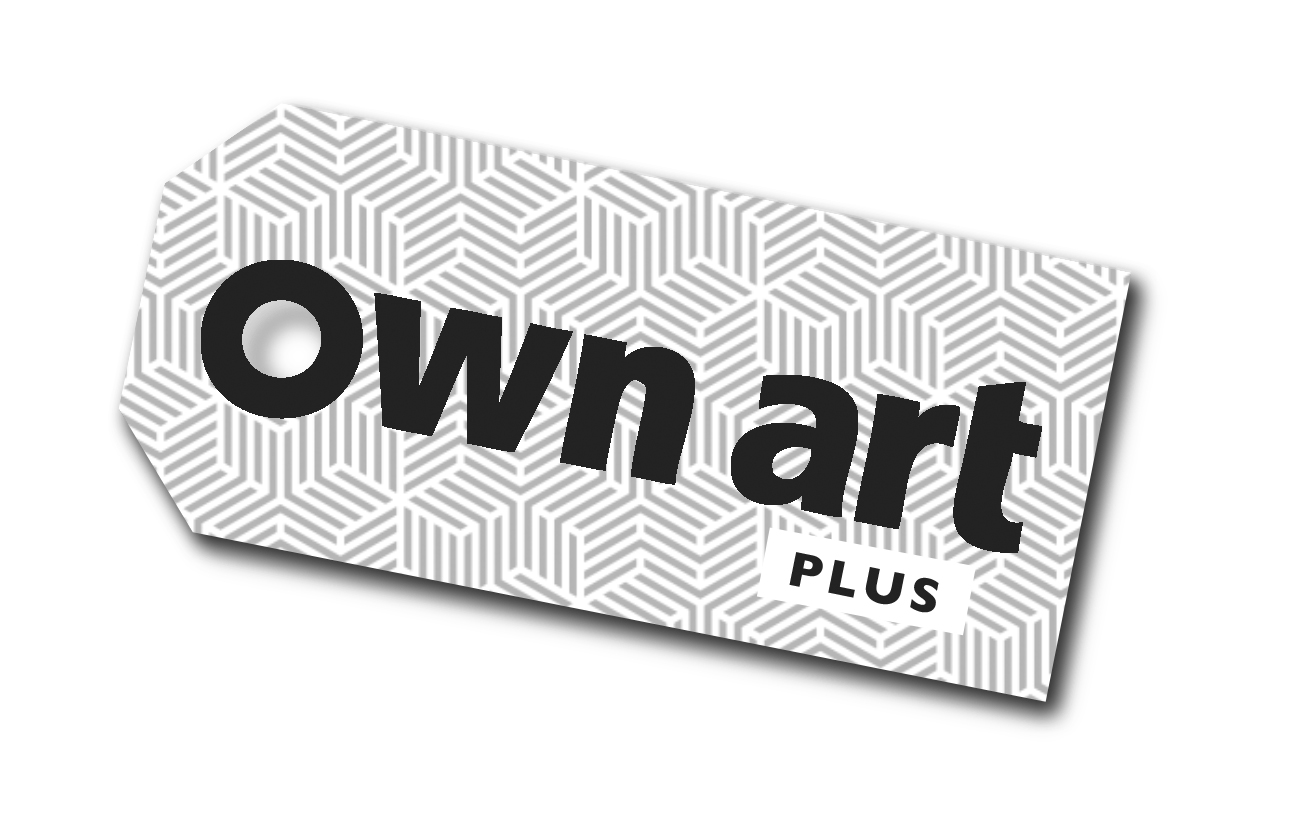 Own Art With Urbane
Urbane is delighted to announce that it is now a member of Own Art, which is an Arts Council England initiative operated in partnership with Creative Scotland.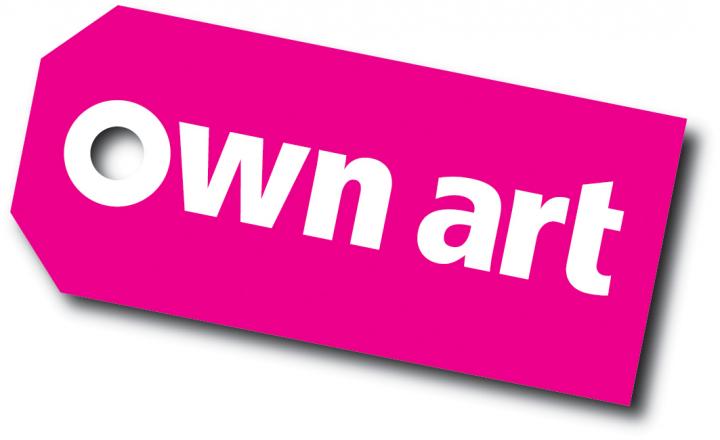 RENAISSANCE SERIES BY FRE
Urbane is proud to be hosting the first European exhibition of a new suite of work by internationally renowned photographic artist, Freddy Fabris.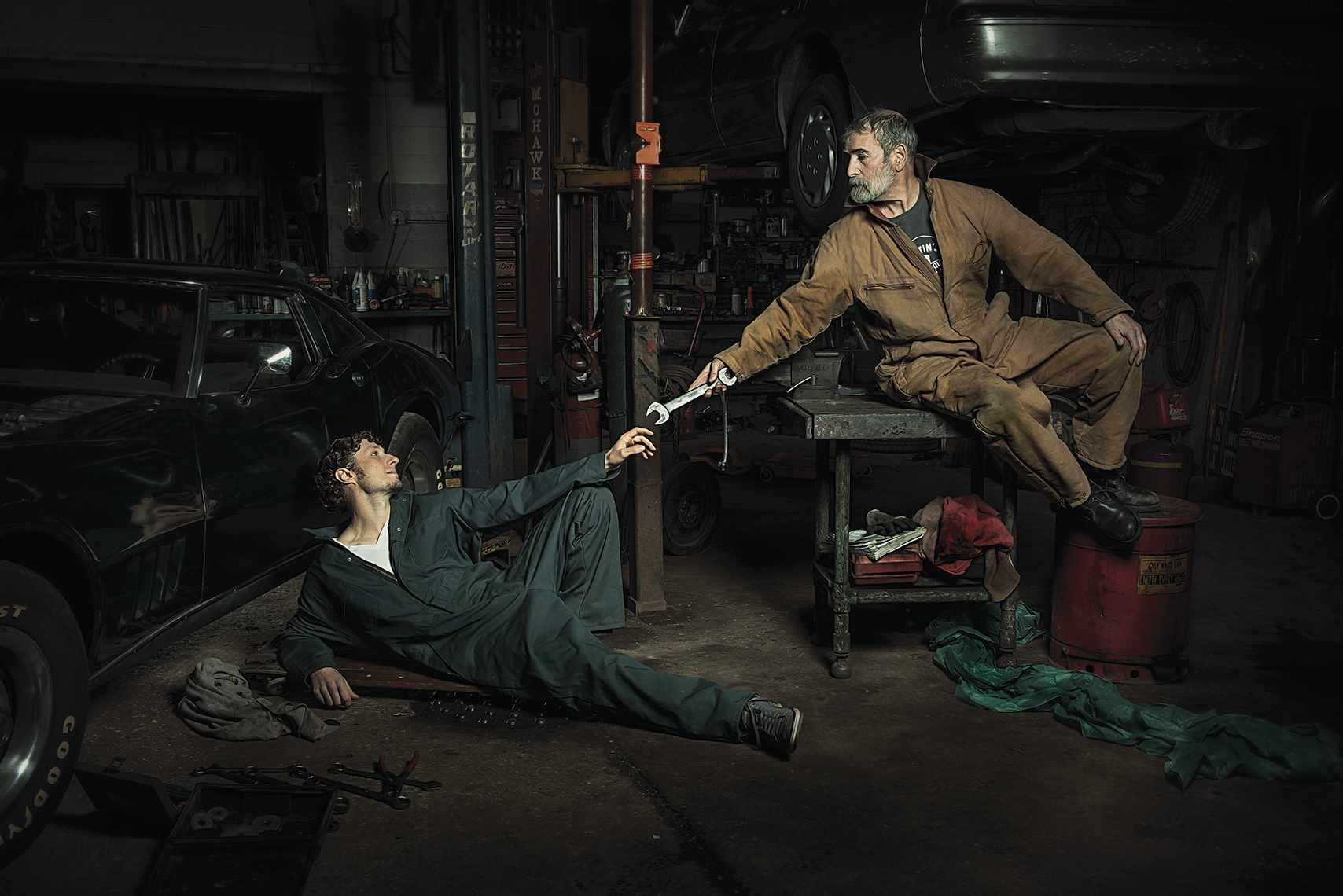 Freddy Fabris Renaissance
We may not have Freddy Fabris in person for the launch of the Renaissance Series exhibition, but we do have the next best thing an interview, where Fabris gives his insight into this award-winning collection of fine art photographs.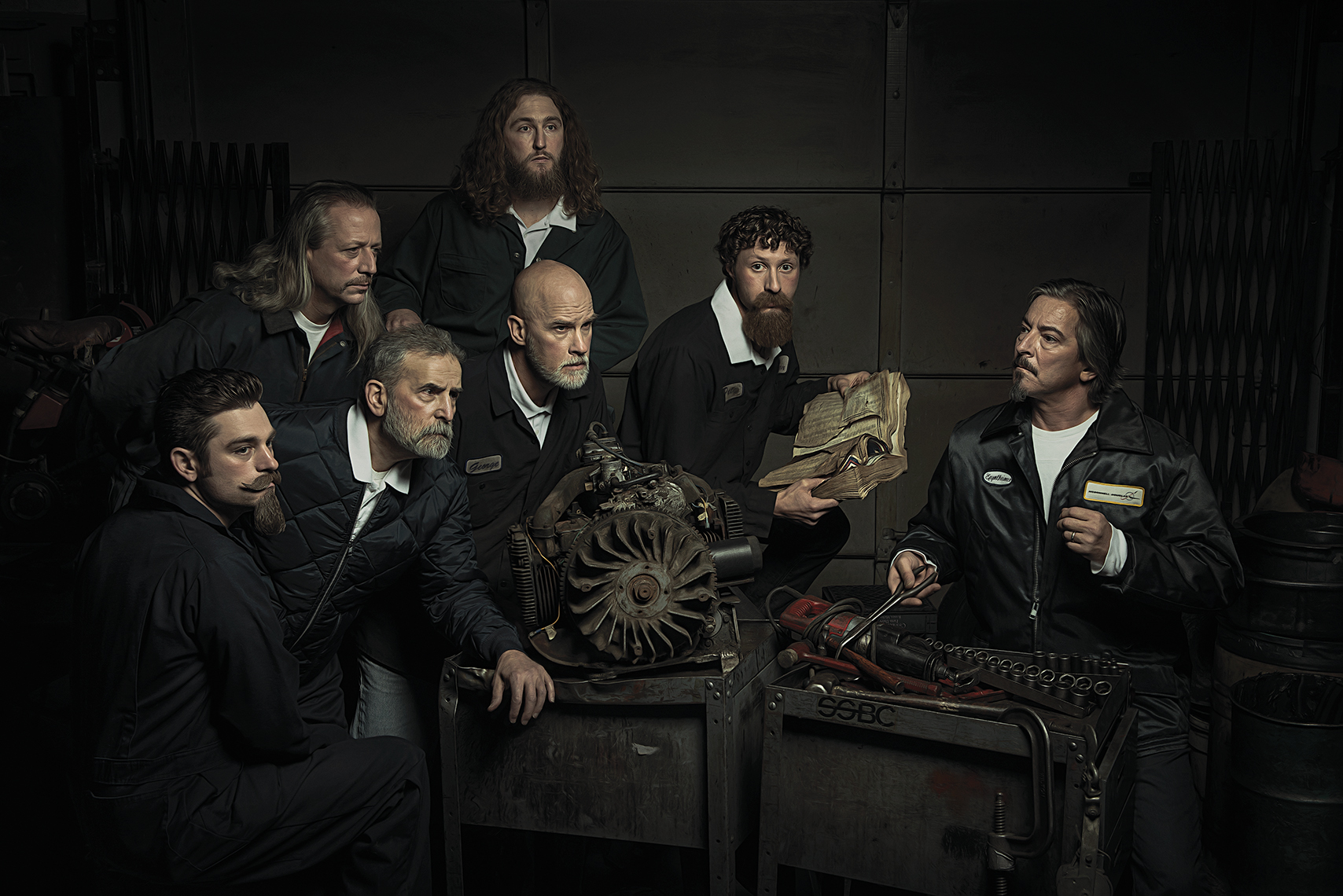 Urbane Welcomes Spanish C
In continuing our efforts to present a varied portfolio of international contemporary art, we are thrilled to be showing for the first time in the UK the artworks of Daniel Sueiras Fanjul.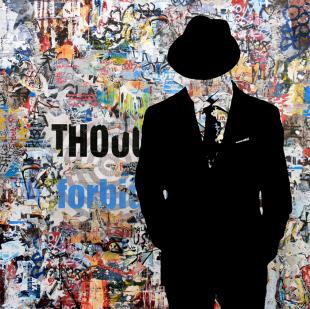 Opening Times For Remaind
For the next few week the gallery will only be open on Saturdays.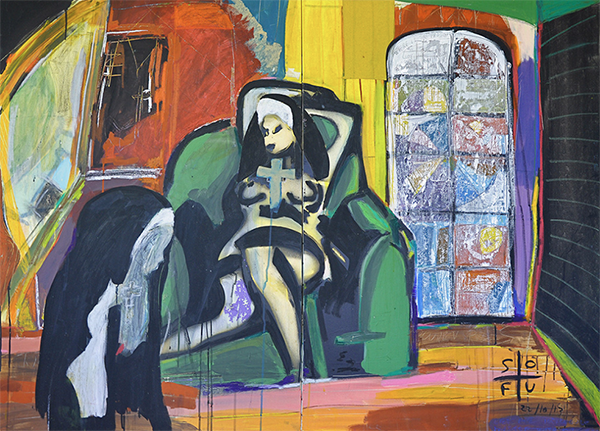 Love Is All Around Us
We are true romantics at Urbane, so we were only too happy to help Craig Burrows in his plan to propose to his girlfriend of four years Melanie Keenen.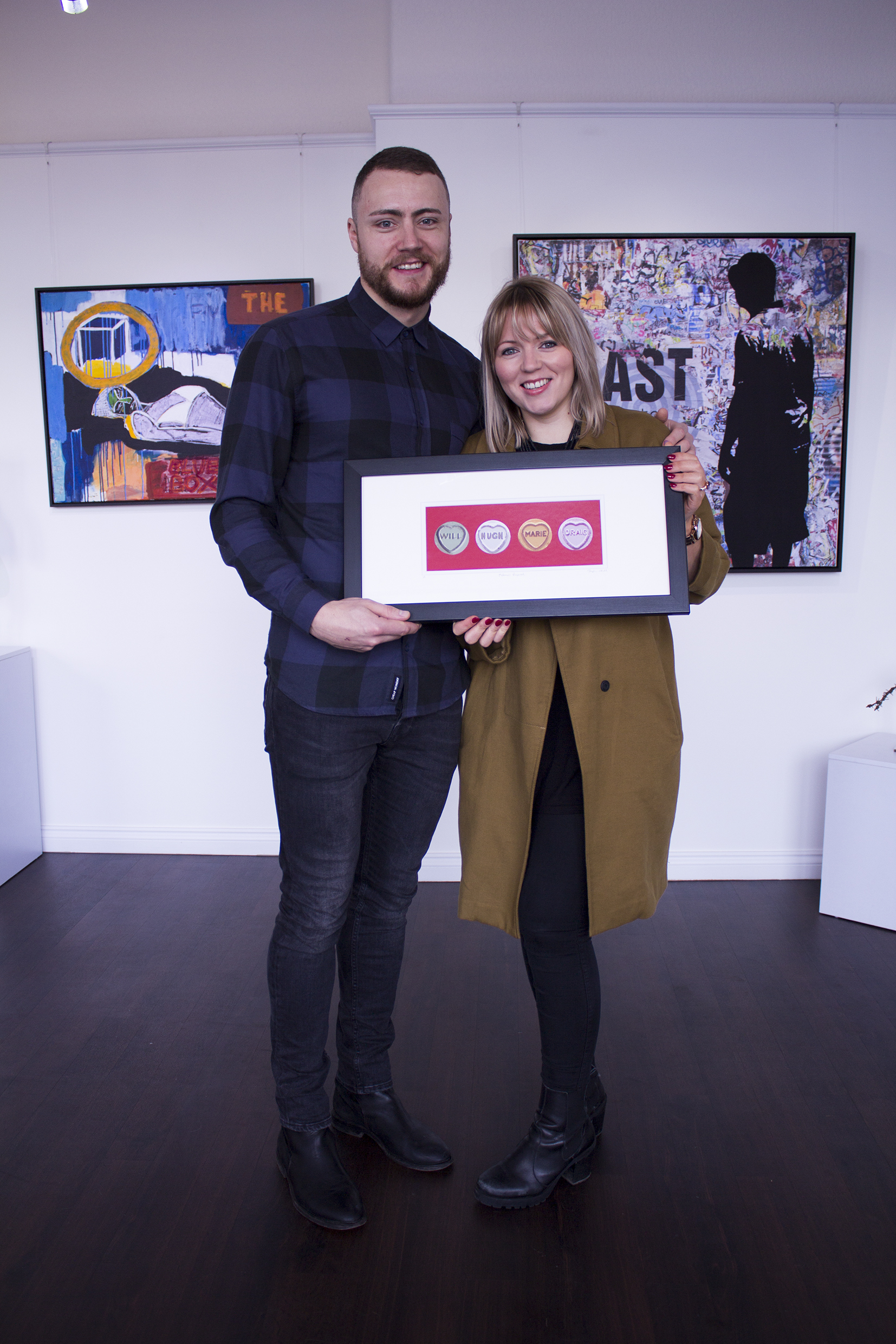 Three Days To EAF 2015
We are delighted to be presenting the critically acclaimed Nice-based sculptor Véronique Guerrieri at EAF 2015.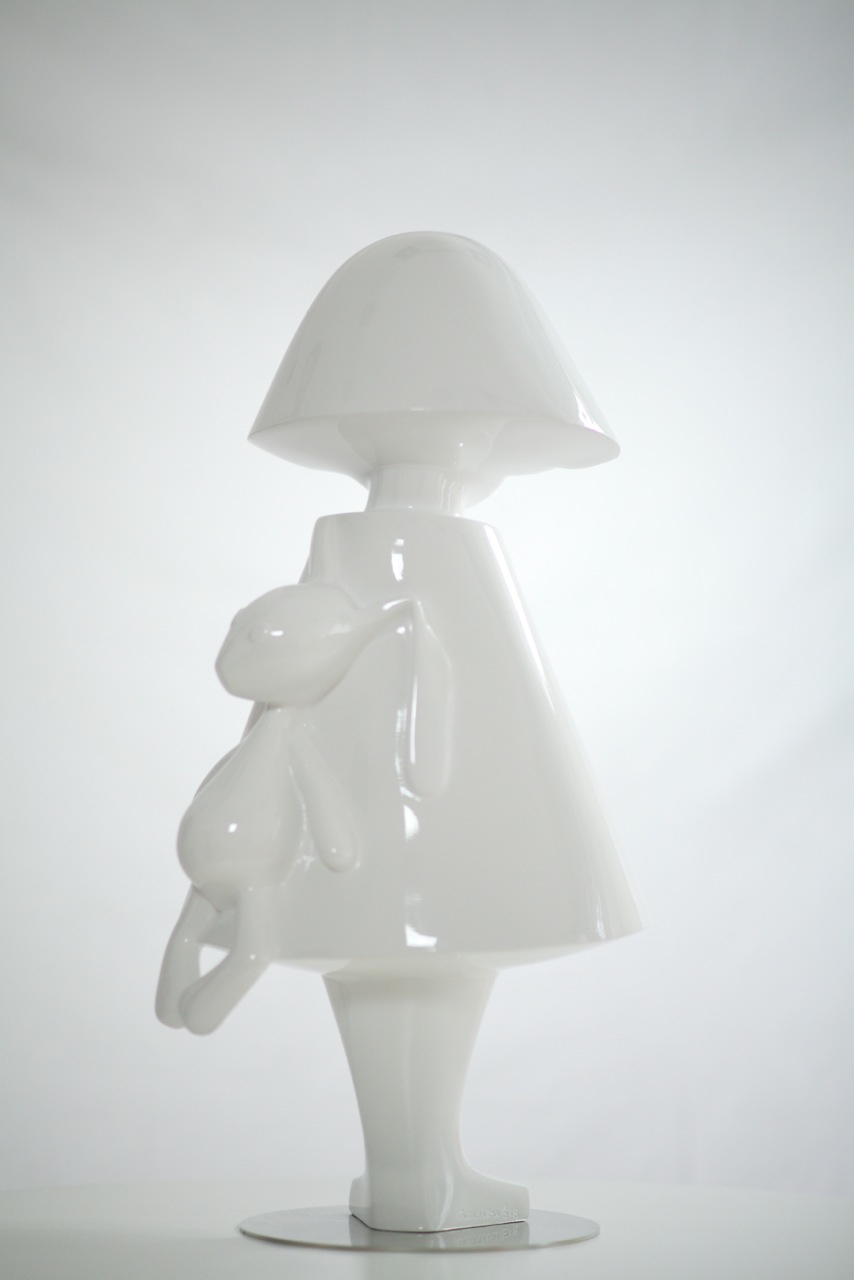 The Directors Of Urbane A
A warm congratulations to Tracey and Archie Roxburgh, the Directors of Urbane Art Gallery on their wedding.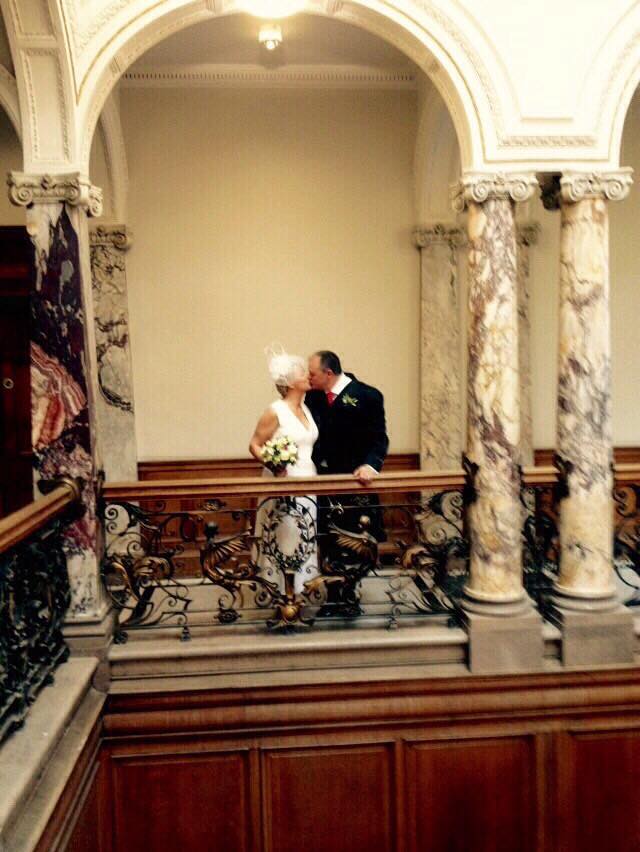 So Fu Exhibition
So Fu's exciting urban art is a continuing dialogue with neo-expressionists and in particular Basquiat.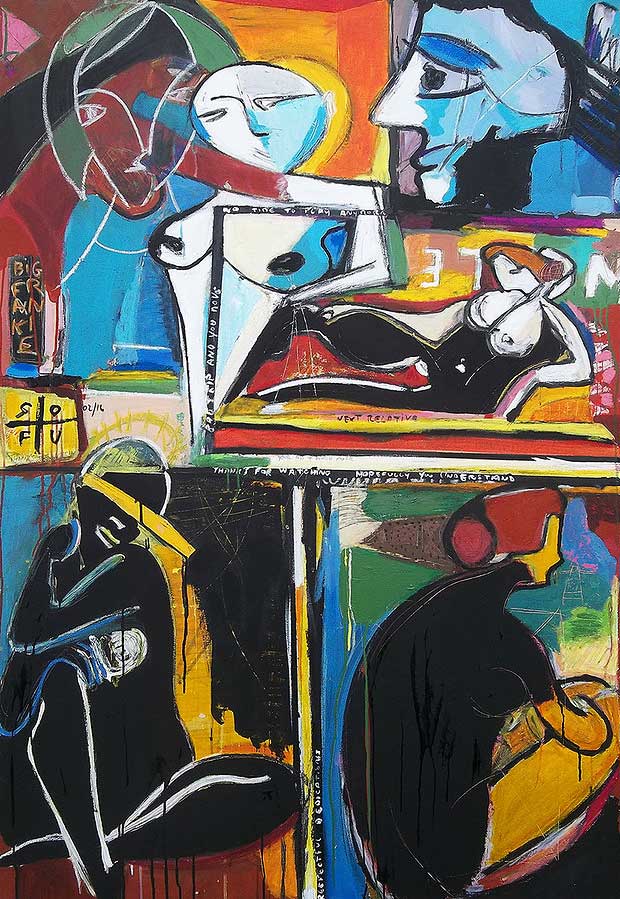 Colin Brown
Urbane Art Gallery is excited to be showcasing Colin Brown's latest artworks.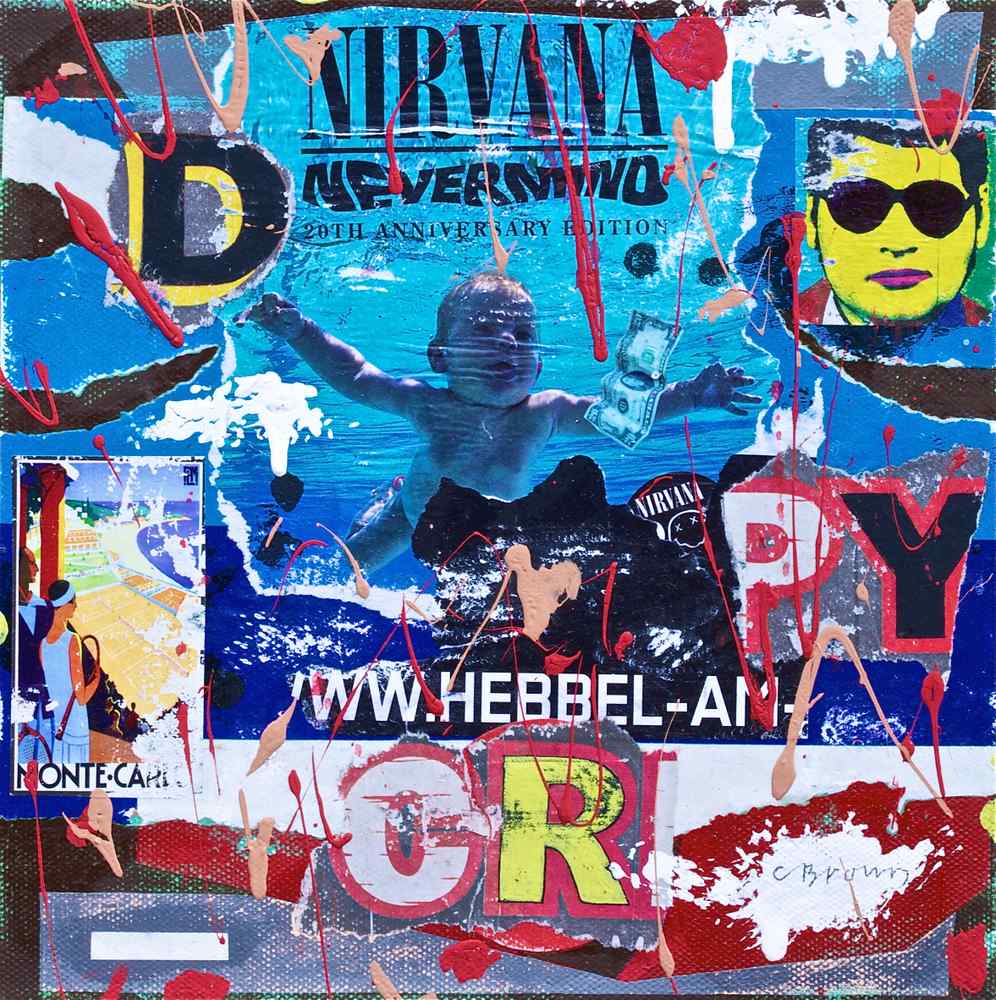 Glenn Kennedy
Glenn's art raises awareness about growing up in Northern Ireland in the 1990's, his paintings are informed by this period in history.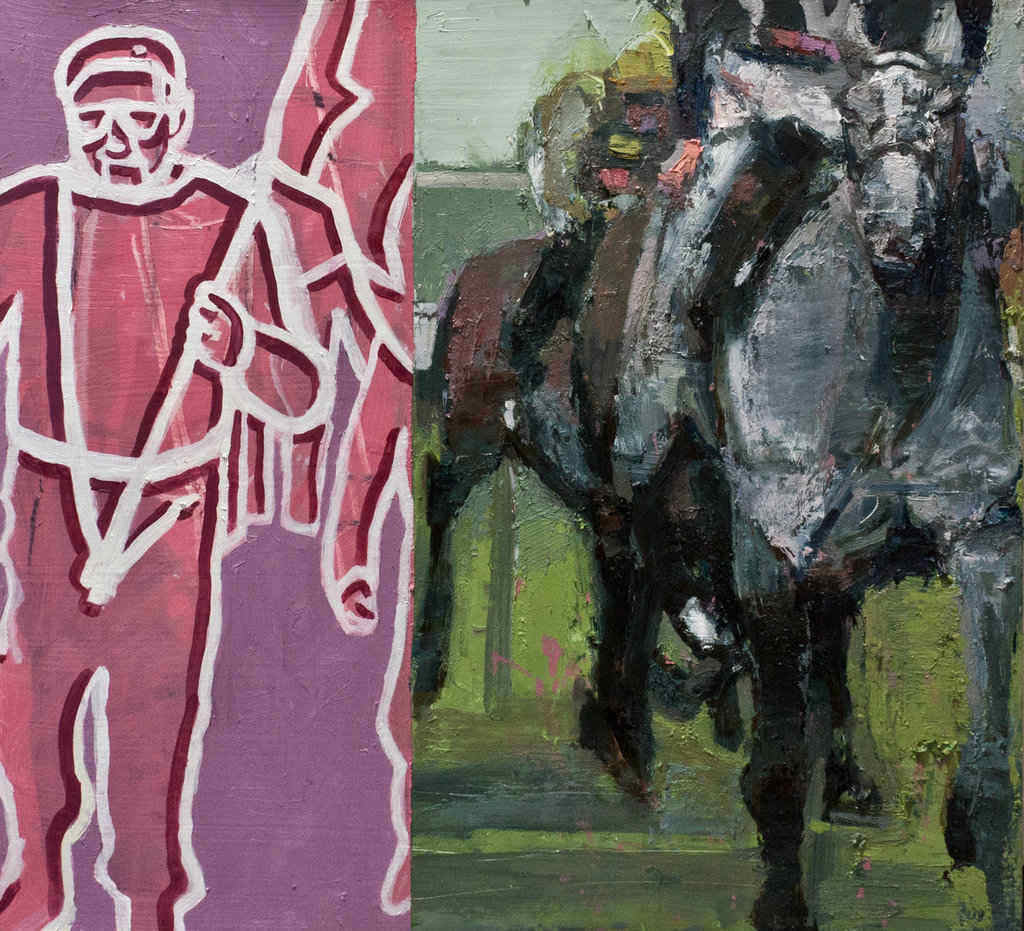 Corinna Wagner
There are two sides to Corinna Wagner's creative output, one is abstract and the other is figurative. She says, "These two different styles push my personal and artistic boundaries".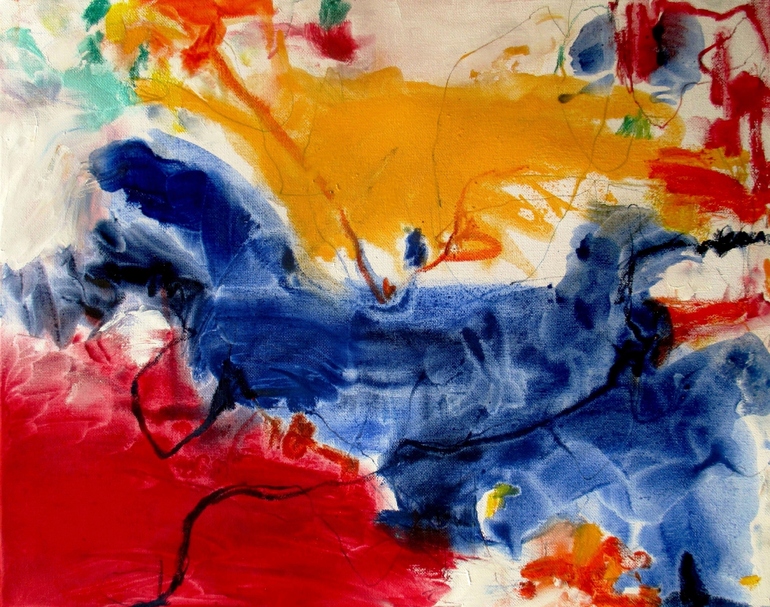 Auld Reekie Print by Step
Congratulations to Gary Motherwell you have won Stephen O'Neil's fantastic mounted print of Auld Reekie
Welcome Michael Dawson
Urbane Art Gallery is pleased to add Michael Dawson to their growing list of national and international artists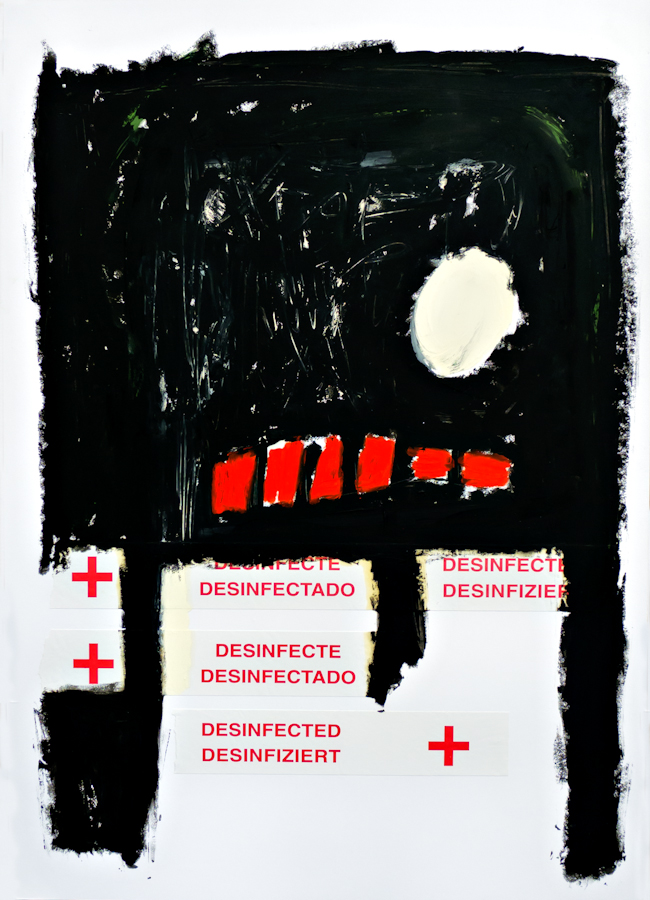 New and Exclusive Print b
Urbane Art Gallery is the only gallery to have Stephen O'Neil's latest print of Calton Hill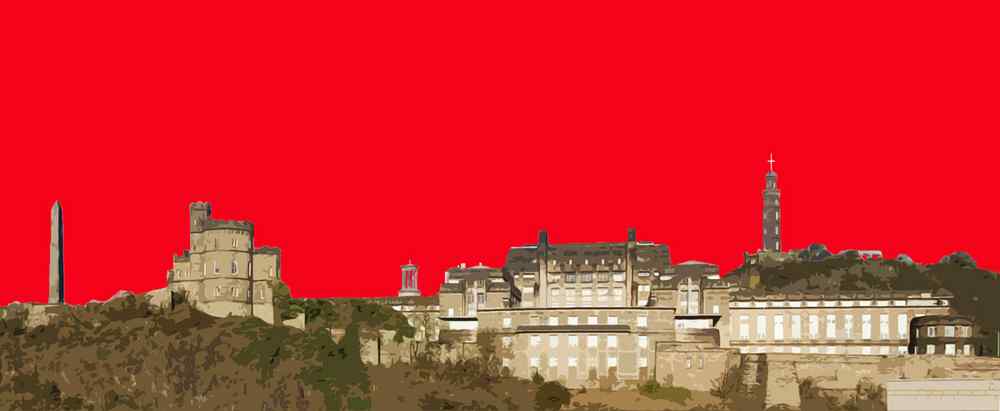 First UK Exhibition for E
Hossam Dirar will be showing in the UK for the first time at Urbane Art Gallery from 7th June to 19th July.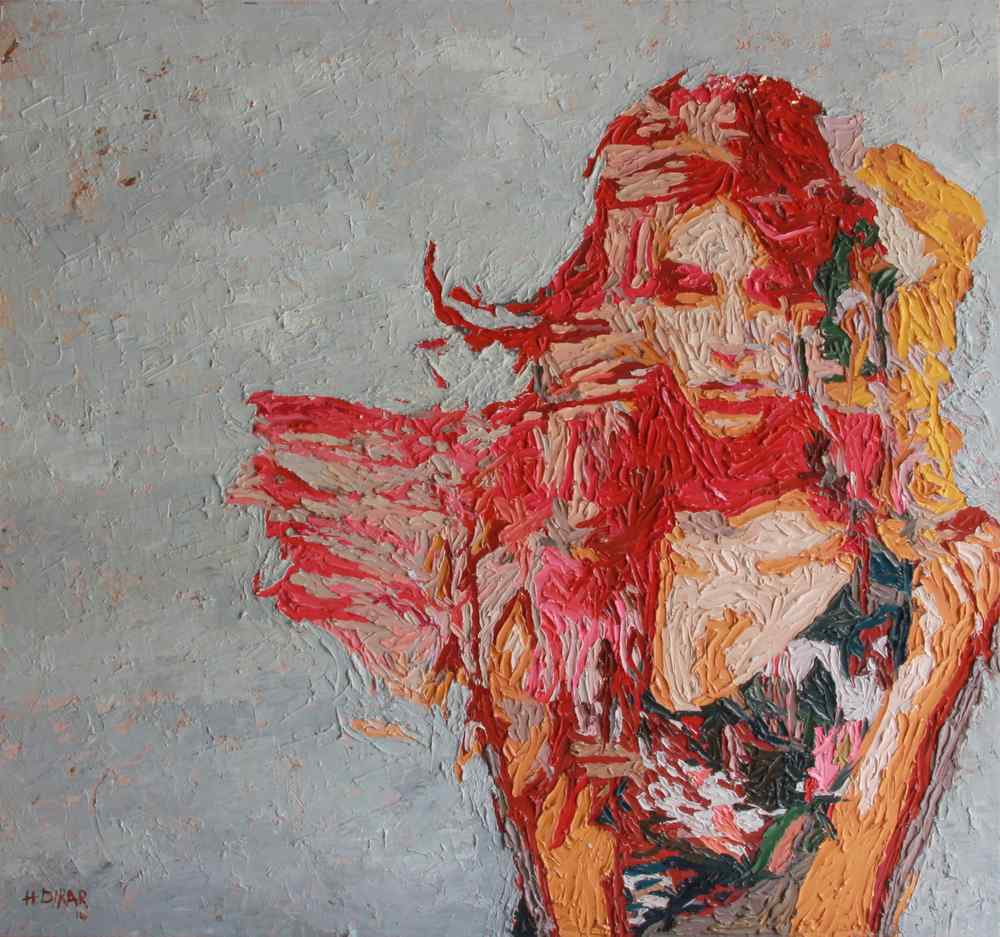 Summer at Urbane Art Gall
One of the highlights of this year's Edinburgh cultural calendar will be Urbane Art Gallery's Festival Exhibition taking place from 23rd July - 21st September, displaying the work of Louise Giblin MRBS and Rosie Playfair.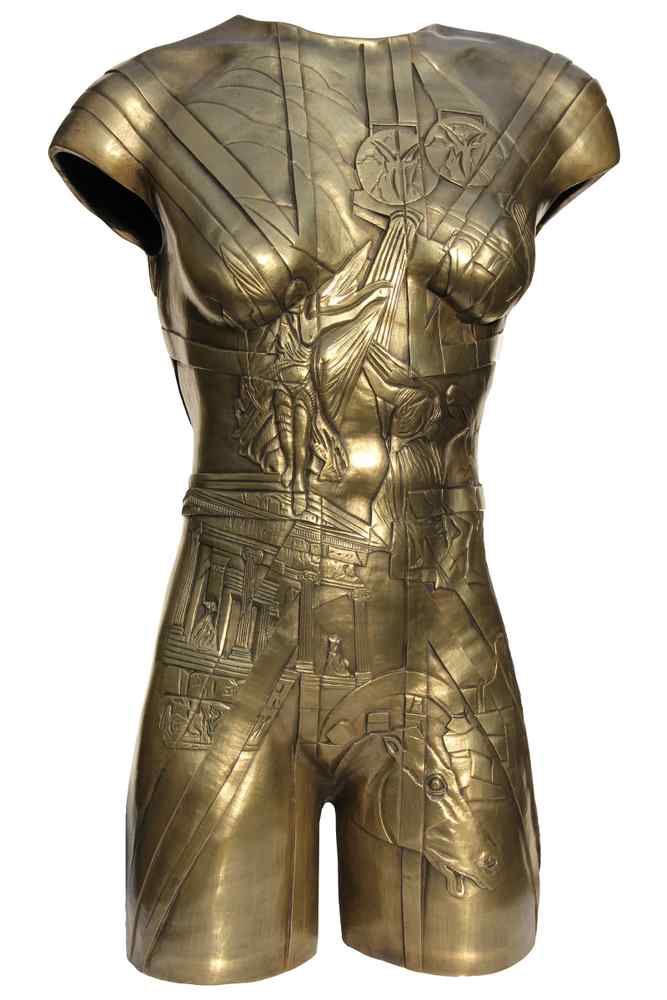 Sportastic Line-Up of Bro
We're celebrating Glasgow 2014 early with the first ever showing in a Scottish gallery of bronze plaques by Louise Giblin MRBS this weekend.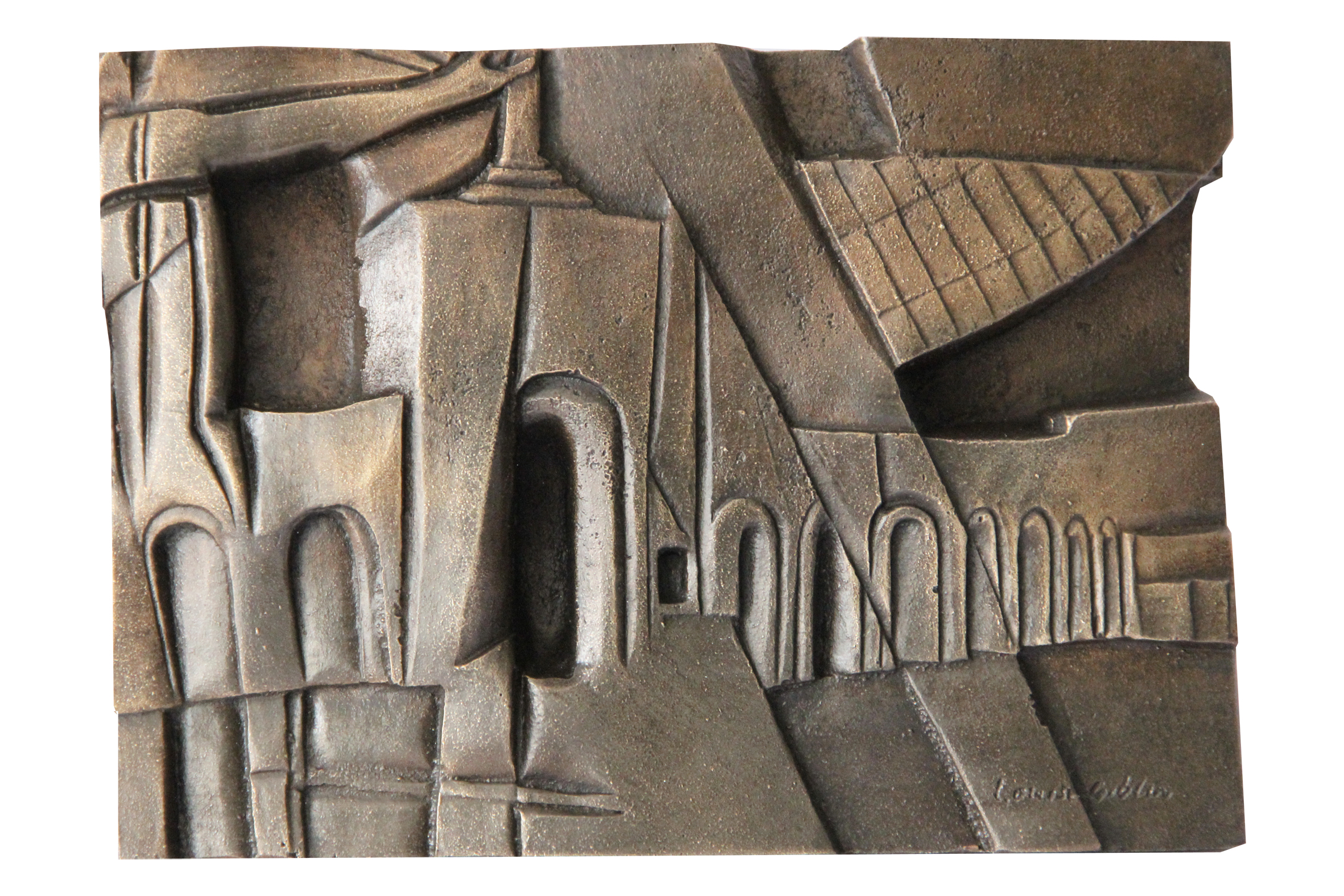 Traditional Art With A Co
Next month we will be featuring the edgy Paris-based artist Mathieu Bernard Martin.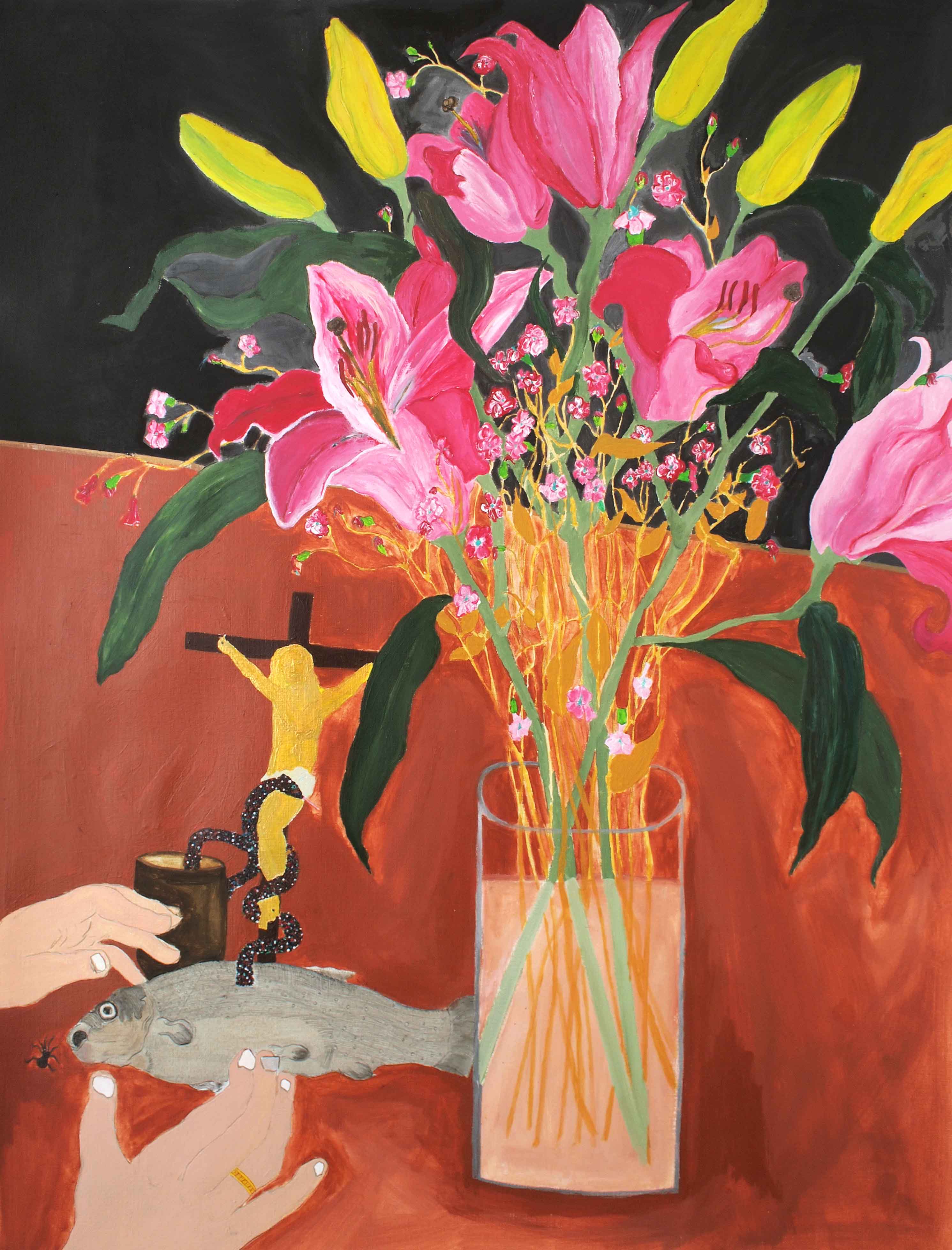 Paul Charlton To Exhibit
We are thrilled to be showing the artworks of the popular Edinburgh-based artist Paul Charlton.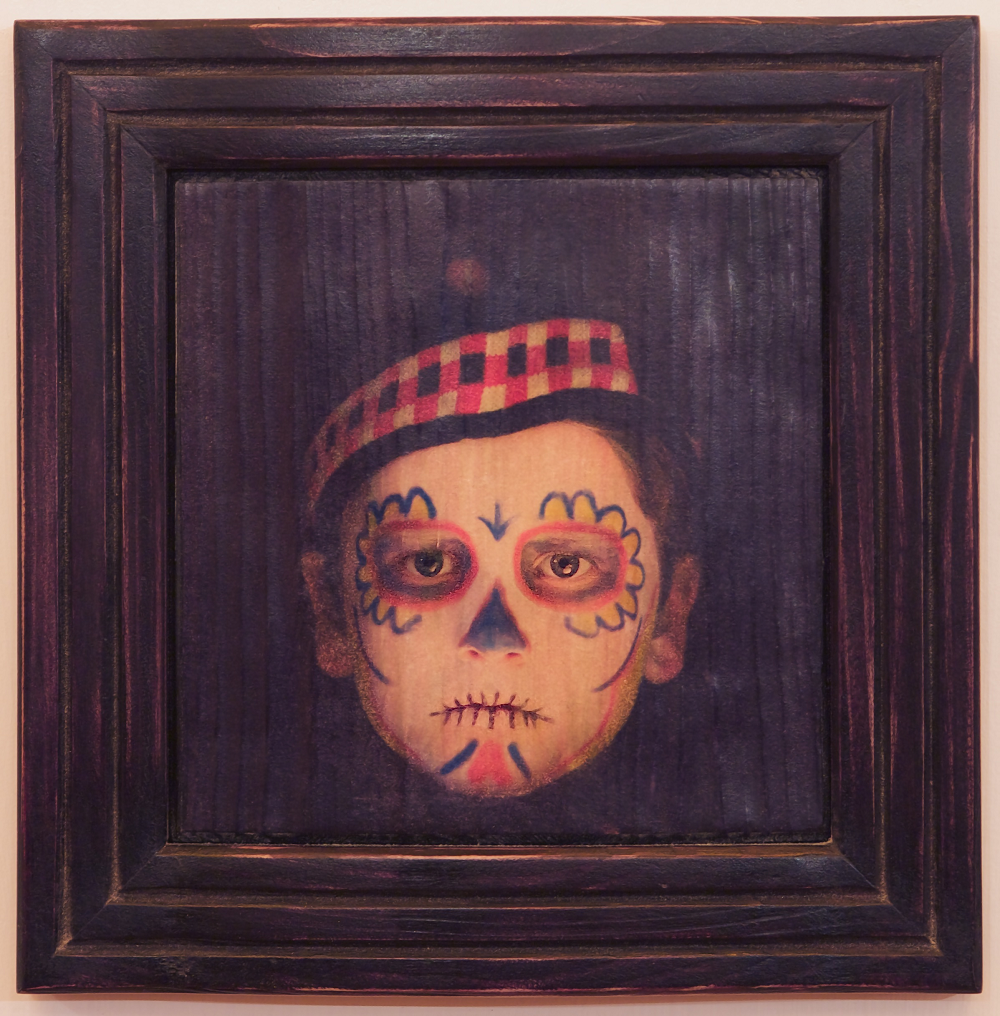 Award-Winning French Arti
Tehos, the 2011 Aiap Unesco Prize Winner is the latest international artist to exhibit at Urbane Art.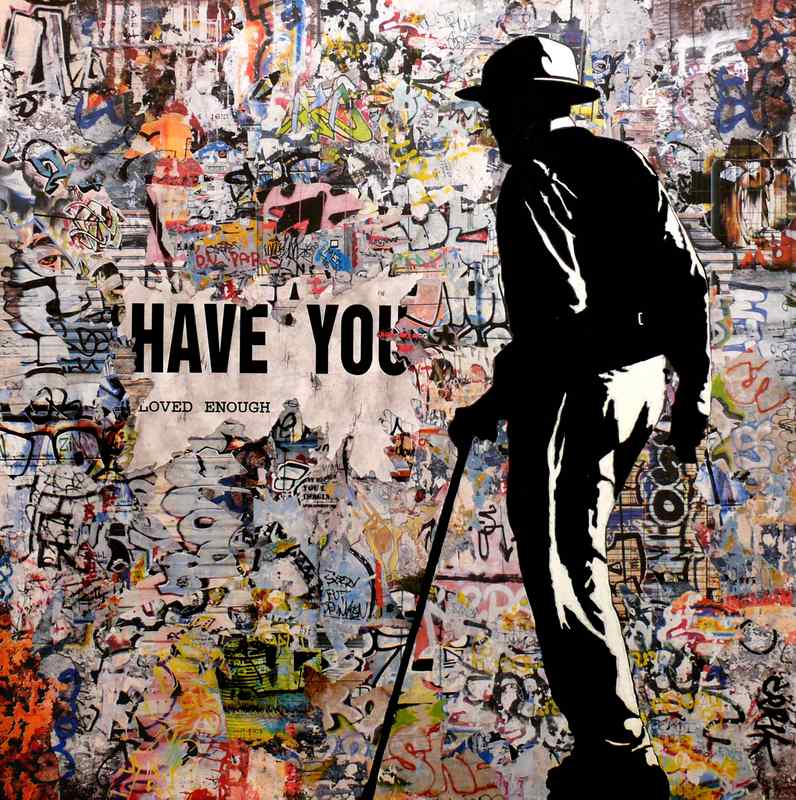 Marta Czok Joins Gallery
We are very proud to be bringing to Edinburgh a collection of work by Marta Czok, an artist highly regarded internationally.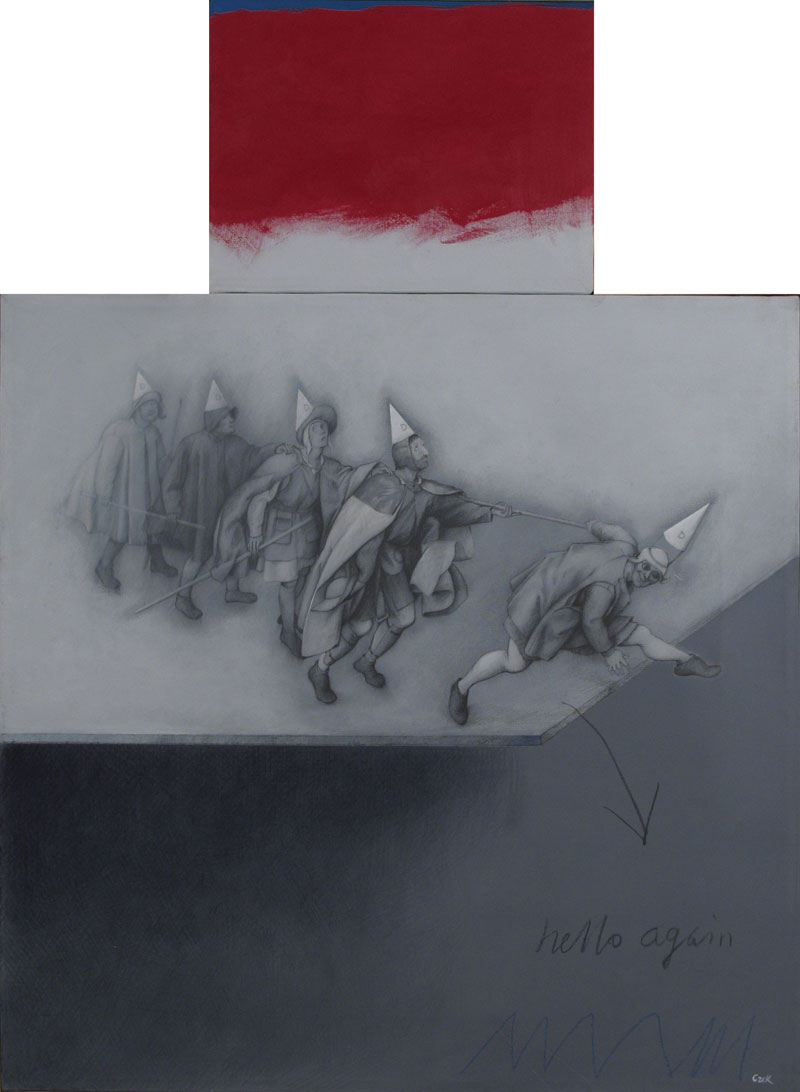 Multi Award-Winning Itali
We are very excited and proud to be showing in Edinburgh a selection of work by the hugely talented and popular artist Jolanda Spagno.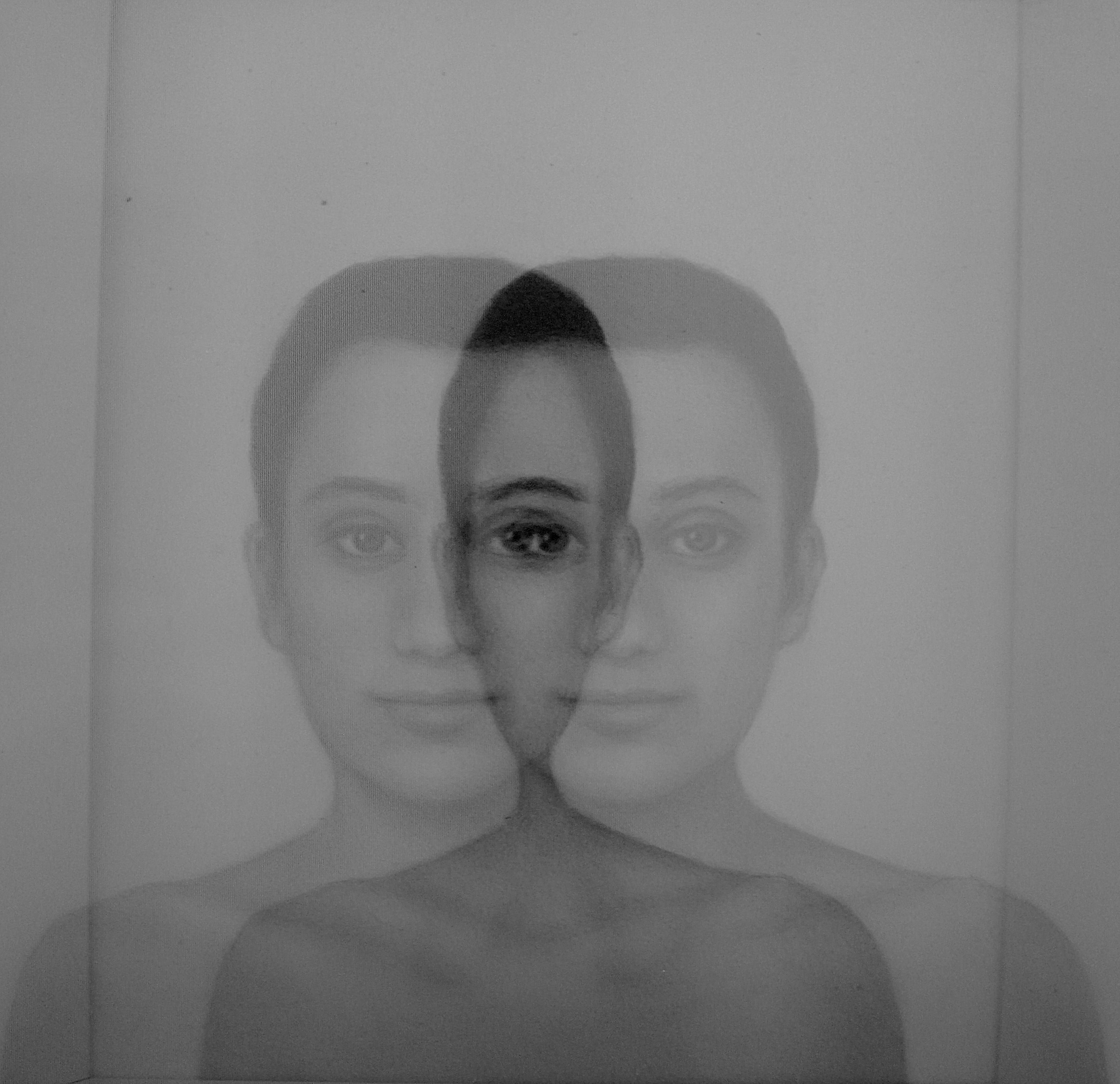 Solo Show For Clare Andre
Next month Urbane Art will be showcasing the work of Clare Andrews.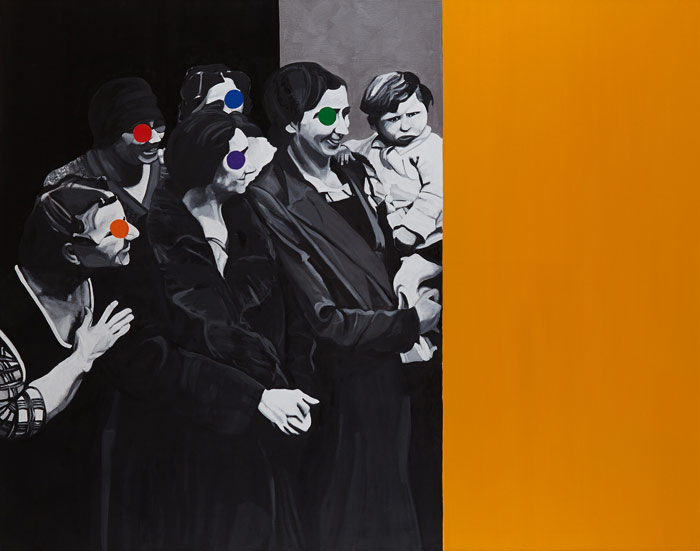 Urbane Welcomes Rudolf Fa
The leading Swiss abstract artist will be making his UK debut at the gallery next month.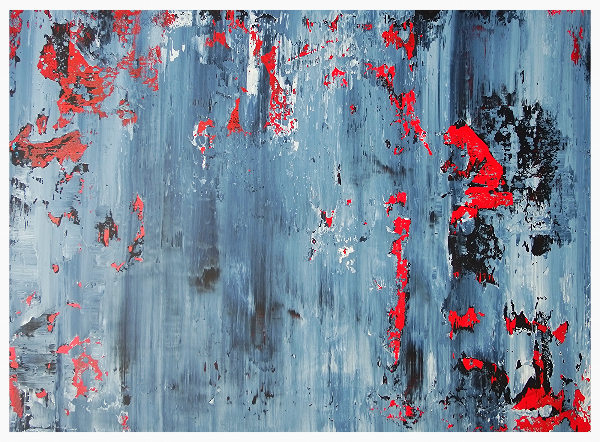 Kenneth Le Riche Now Exhi
Edinburgh College of Art and Leith School of Art lecturer Kenneth Le Riche is the latest artist to join Urbane Art Gallery.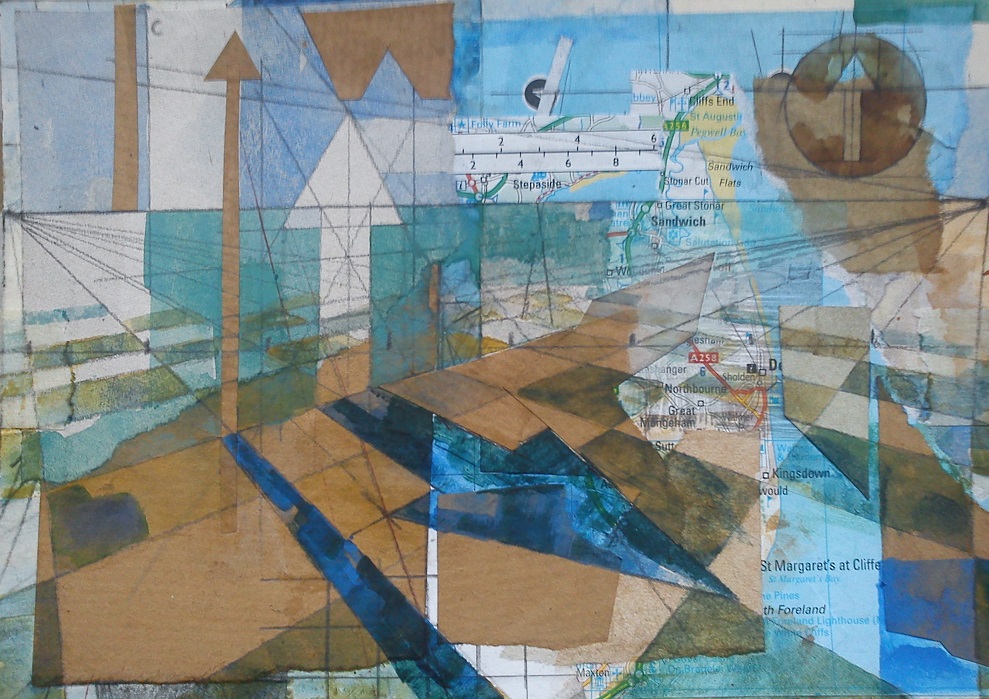 New Works By Bea Last
Top international artist Bea Last is now exhibiting at Edinburgh's Urbane Art Gallery.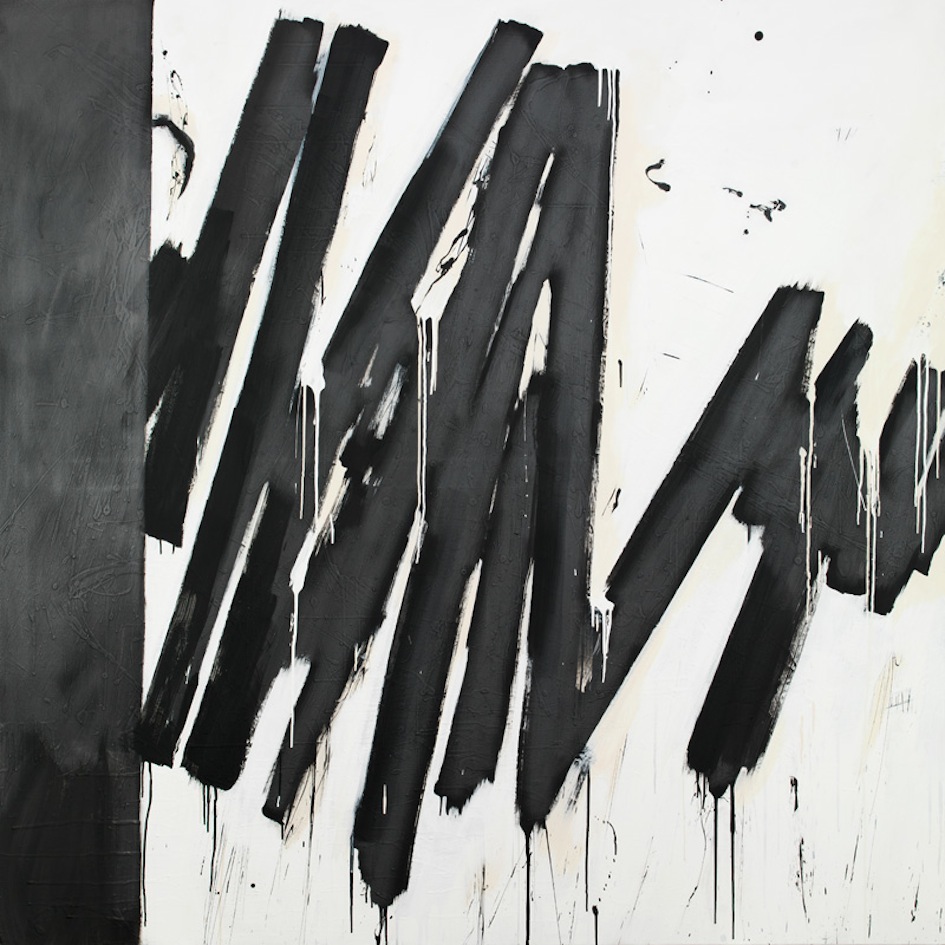 Happy All Hallows' E
To celebrate Halloween we have chose the aptly named Saturday Night Fever, a light art painting by the world renowned light art photographer Janne Parvianen from Finland.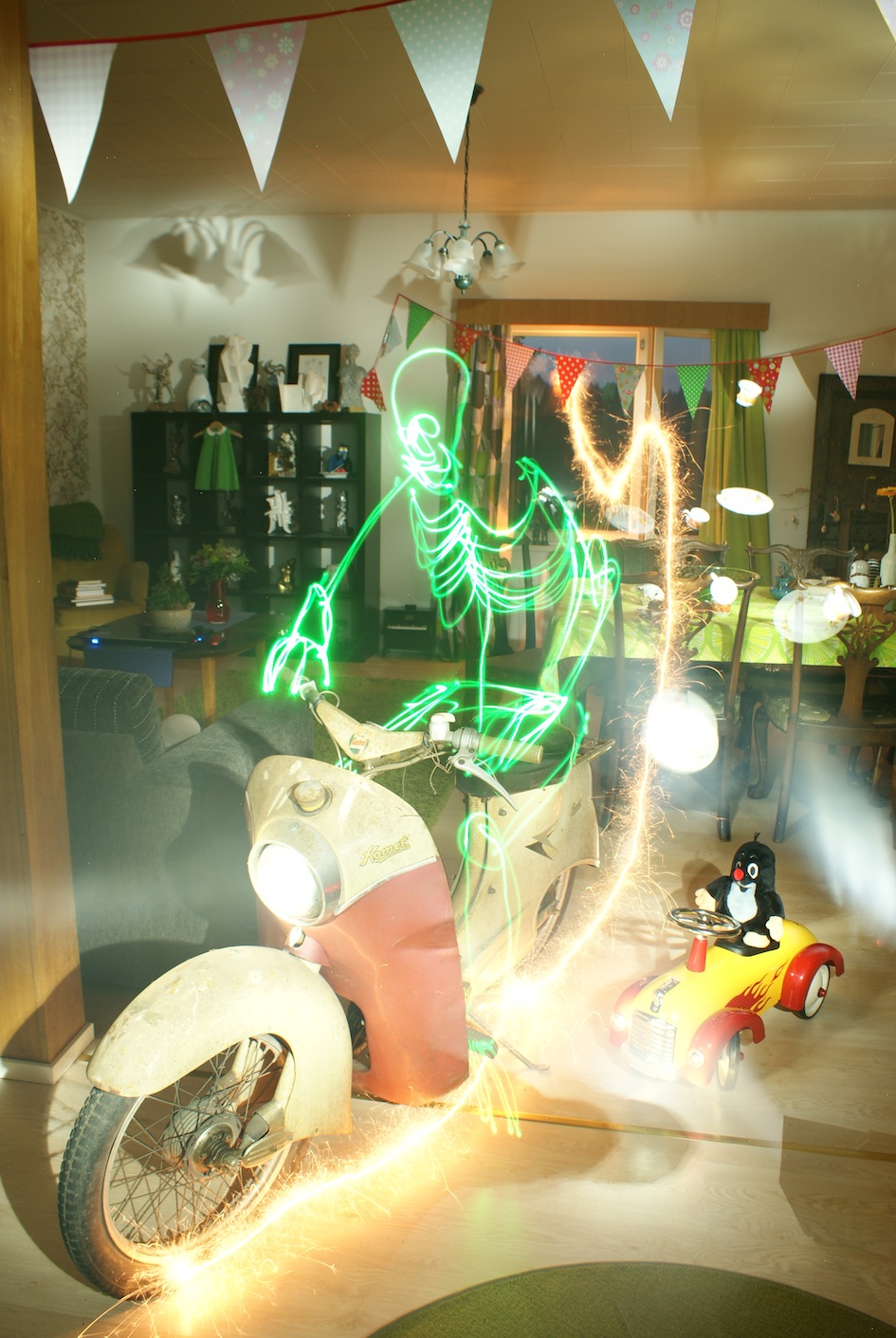 Going For Gold
Louise Giblin MRBS Triumphs At 2015 Florence Biennale.