SPOTLIGHT ON Daniel Sueiras Fanjul
By
Lauren Frost
4th August 2016
Portrait artist Daniel Sueiras Fanjul is somewhat different from the norm. Instead of turning out portraits depicting well-heeled aristocrats, he subverts the traditional in favour of the unconventional; chimps in ruffs and towers of meerkats. His 'Natural Selection' series is also interspersed with delicate little portraits that are fun and quirky (prices start at £450). We've so far found new owners for many of our adorable animals here at Urbane (see 'The Flying Pig' below), but some are still searching for their forever home.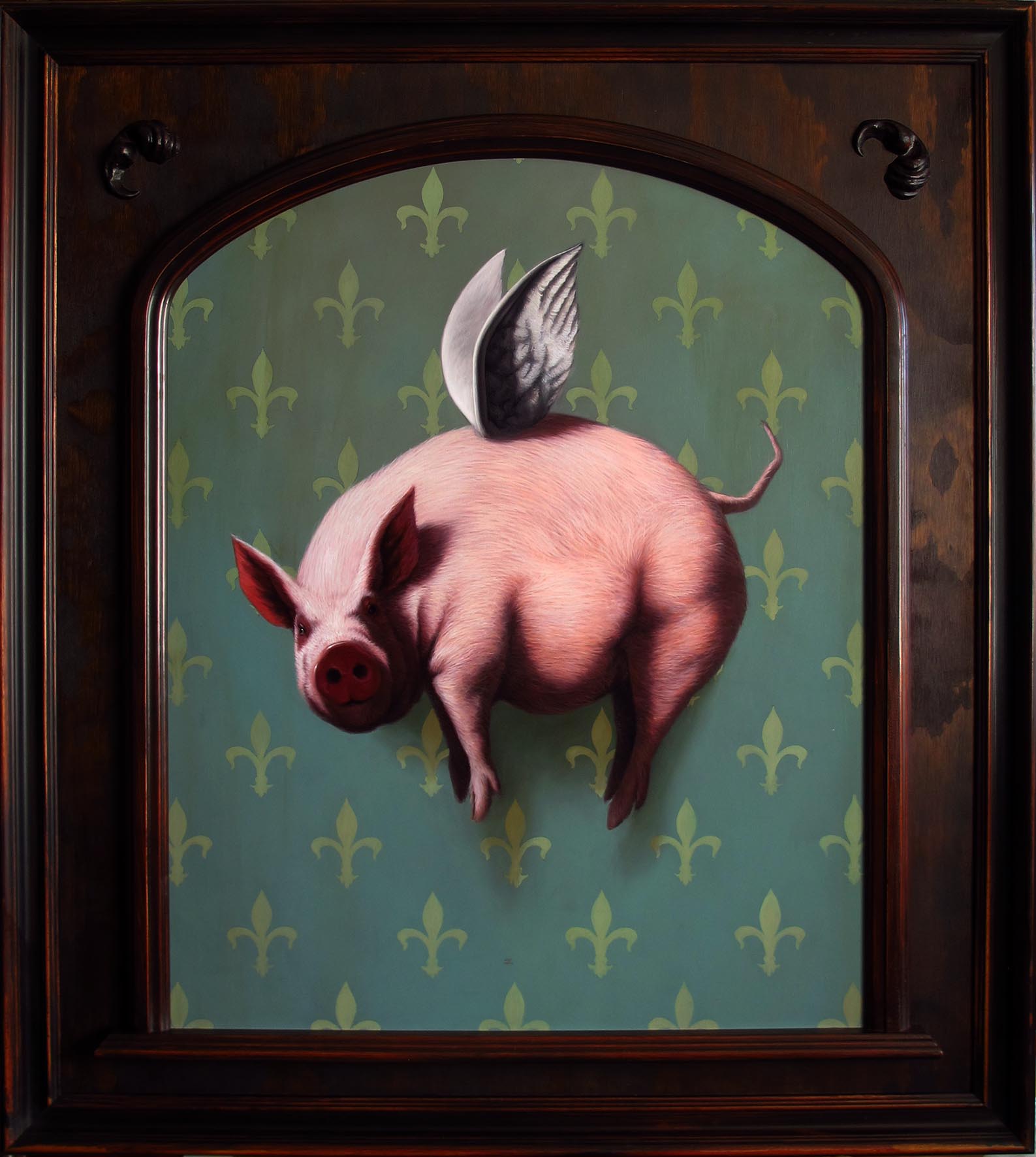 Daniel's series 'Natural Selection' currently centres around Charles Darwin's pivotal work, 'On the Origin of Species'. He chooses to portray animals, rather than people, in order to communicate something about established cultural norms and perceptions, to add a sense of humour where usually, there would be none. He asks the viewer to remember their animal ancestry, and to understand that the differences between the two are not so great as we might expect. We see this most notably in his depictions of the chimps; one in a fur coat, the other in a ruff, and, most curiously, one dressed as Clark Kent. The expressions of these animals are employed at the highest level, to be entertaining characters. But if we look a little deeper, we may begin to question just what Daniel's motives are. Are we to look at the chimp and see ourselves?
Along with his mother, Daniel sources antique frames from Spain, which he then refurbishes and restores, before then deciding what to paint within the confines of its borders. This ensures that each piece is completely unique, and also engenders each with a sense of the history that comes with using recycled and reimagined materials.
Behind his humour is extraordinary talent; each piece is skilfully painted, rich in both colour and detail. His work is eclectic, yes, but in a way that is fun and interesting. The smaller pieces are perfect for limited wall space, but equally, the larger scale paintings in our collection here would be suitable for any kind of environment. Why not test it out on our 'view in a room' option at the website ? Our partnership with Own Art would also allow you to take away a piece of artwork on the day, but spread the cost of purchase over ten months at 0% APR
Daniel's Profile as an international Artist:
Exhibitions
His work has been exhibited worldwide in several galleries, Art Fairs and Biennials including in Madrid, Berlin, Taiwan, Korea, New York, London and Washington just to name a few.
Awards
Fund Conecssion FRONTERASUR, 2009

1st Prize, Certamen Confederación de Empresarios de Cádiz

1st Prize, Ciudad de la Letras de Tomelloso

Painting Modality Alcade Zoilo Prize, 2006

1 Gallery Prize, Murcia, 2001

TALENS Prize by Fund Concession, 2000

Winner, National Painting Contest, Spain, 2001

Honour Mention at Antonio López Garcia Prize in Tomelloso, 1999

Honour Mention at the National Painting Contest, Spain, 1996